Productivity Gains Credited to Mobility
But Saving 9 Hours a Week? That's Hard to Believe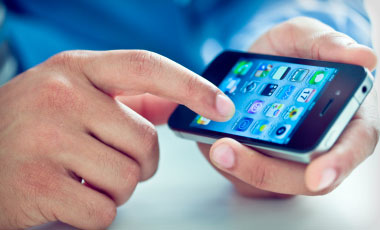 A new study contends mobile device users in the U.S. federal government gain an estimated nine hours a week in productivity, equating to nearly $28.4 billion a year in savings from productivity gains.
See Also: OnDemand Webinar | Cloud applications: A Zero Trust approach to security in Healthcare
Those figures come from a new study issued by the Telework Exchange, a public-private partnership that encourages telework and mobile computing. Those stats sound unbelievable, no?
But Telework Exchange contends that's what survey respondents told them when it asked government employees who use mobile devices to estimate the relative time savings each week they get from using smart phones, tablets and cell phones for work-related tasks. Telework Exchange provided the math to reach the savings (see below).
I have little doubt that mobile devices make life easier for users; it does for me. But making work easier and making it more productive aren't always the same.
Each morning, at 10, the editors of Information Security Media Group - publisher of this site - meet online to discuss what's on our agenda for the day. We use GoToMeeting, and for years I executed the collaborative software on my laptop to connect with my colleagues. It usually took about two minutes to connect. For the past few months, I've been connecting almost immediately using the GoToMeeting app on my iPad. That saves 10 minutes a week, or 40 hours a year. My boss isn't saving a week's salary on my productivity gains, and I'm certainly not seeing that money.
When I take a jog during my lunch hour, I'll check my e-mail on my Galaxy S III. The e-mail app on the Droid is a bit cumbersome, compared with using Microsoft Outlook on my laptop, especially when I reply to a message. [I'm literally all thumbs on my smartphone.] Again, I don't perceive any productivity gain, just convenience.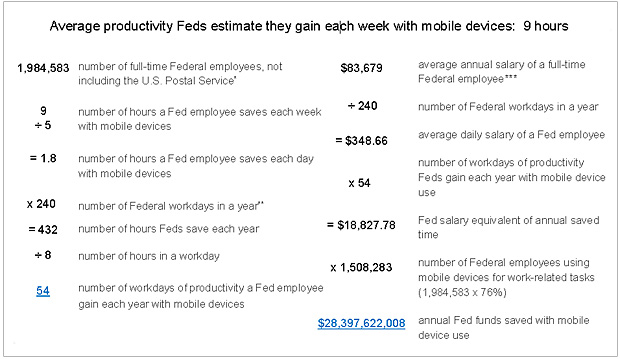 Nearly all the surveyed government employees who use mobile devices say their work has improved by having mobile access. How? Three-quarters say mobility increased productivity, 61 percent say it improved communications with colleagues in different locations and nearly half say it increased collaboration.
No doubt, new technology improves productivity. I'm just wonder whether employees' perceptions of the savings equate with reality.
Still, a growing number of workers use mobile devices for work; indeed, 55 percent of smart phone users surveyed say they use their own devices for their jobs. And, one-third of them says they don't use passwords to protect access to their devices. Also, 61 percent of these smart phone users say their agencies don't have BYOD policies.
Now, that's a believable response and one that not only government agencies, but all types of organizations, should recognize. Government agencies and businesses need to develop policies on how employees use their own mobile devices at work if they want to take advantage of efficiencies mobile technologies offer while providing a secure computing environment.