Enterprise Mobility Management / BYOD , Privacy
Pokémon Go: Why Are We So Stupid About Security?
Police Advise Practicing 'Situational Awareness'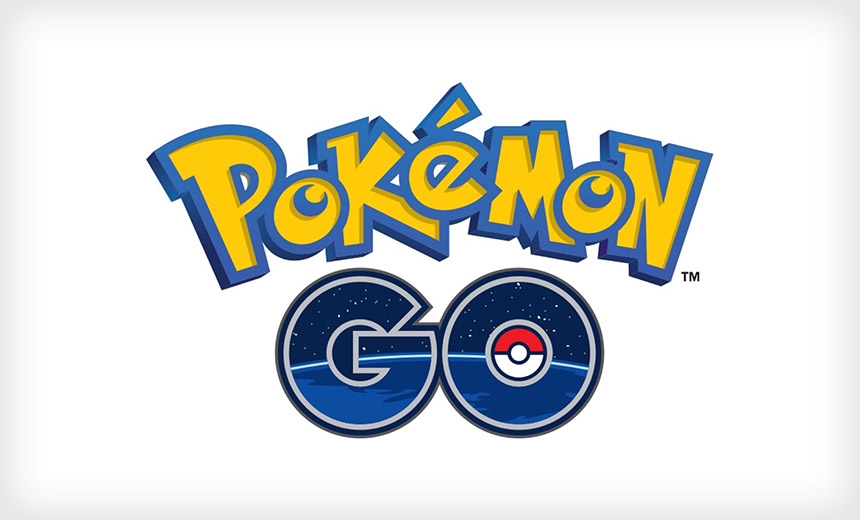 As the Pokémon Go craze continues, it's clear that when it comes to chasing virtual creatures through real-world locations, too many people fail to keep some common sense guidelines in mind.
See Also: Zero Trust Webinar: Research Insights Exploring the Actionable, Holistic & Integrative Approach to Security
Of course, when it comes to security - be it of the personal or data-related kind - many individuals regularly act with seeming disregard for their privacy or safety.
"No game is worth your life."
We've long seen poor cybersecurity behavior when it comes to people picking poor passwords or organizations selecting poor ways of securing those passwords. For years, people have also continued to fall victim to attacks involving USB memory sticks dropped in parking lots, which they duly pocket and plug into PCs, leading to malware infections, for example, at U.S. Central Command.
As the craze for the augmented-reality smartphone game Pokémon Go continues to sweep the world, however, it's sparking a whole new set of stupid behaviors. "In countries where the game has already been launched, various incidents have been reported, including users getting run over by a car, falling into a pond, getting bitten by a snake and getting robbed," says Japan's National Center of Incident Readiness and Strategy for Cybersecurity.
Indeed, many Pokémon Go players appear to throw caution to the wind. A group of teenagers in England stole a rowboat to pursue a rare Pokémon creature across a lake. Firefighters in New Jersey rescued a woman after she chased a Pokémon up a cemetery tree. New York's Central Park temporarily descended into chaos after a stampede of players began chasing a rare type of Pokémon known as a "Vaporeon."
Chaos ensues in Central Park following the nighttime sighting of a rare Pokémon.
But the gameplay hasn't just involved hijinks. In Baltimore, the driver of an SUV slammed into a - thankfully unoccupied - patrol car, after which the driver emerged and said he'd been playing Pokémon Go, according to footage from a nearby police officer's bodycam.
#PokemonGO is not all fun and games. Here is a video of a distracted driver who struck one of our cars. #PlaySafe pic.twitter.com/kOTfbTcILo

— Baltimore Police (@BaltimorePolice) July 19, 2016
Pokémon Go Safety Guidance
With those risks in mind, Japan's NISC has released a nine-point safety guide for players. "I want people to abide by the warning so that people can play it on smartphones safely," Chief Cabinet Secretary Yoshihide Suga tells Japan Times.
Here's a loosely condensed and translated version of NISC's guidance: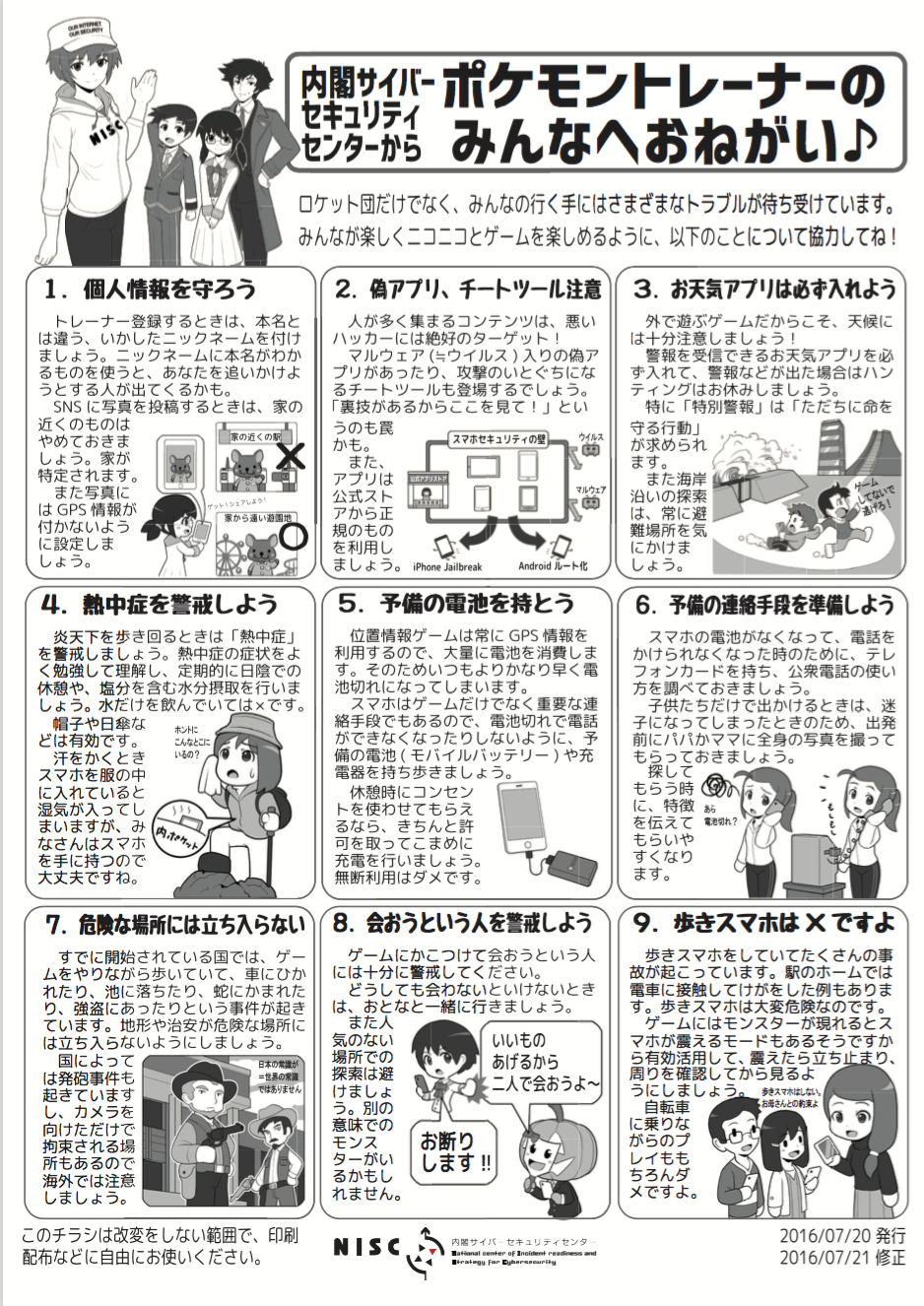 Japan's NISC cybersecurity agency issues 9-point safety guide for Pokémon users.
Privacy: Use "cool names that are different from real names."
Malware: Beware fake versions of Pokémon Go, which hackers have been using to infect smartphones with malware.
Weather: Pay attention to local weather conditions.
Sun: Beware of heat stroke, drink lots of water and don't be afraid to pack a "hat and parasol."
Power: Pack a spare battery whenever possible, since the game relies on GPS data and gobbles power, which could leave users stranded.
Communications: Carry a phone card and money for a pay phone, in case the battery dies, and especially for children, be sure to travel in groups and not stray.
Danger: When chasing Pokémon, avoid "dangerous zones," wild animals and bodies of water, and note that in other countries, Pokémon Go players have been targeted by robbers.
Awareness: Remain aware of your surroundings, try to alert people to your presence and never meet up with strangers.
Trains: Walking with a smartphone without paying attention can be extremely dangerous.
Florida: Shots Fired
Those common sense recommendations echo a list of safety tips issued by the Flagler County Sheriff's Office in Florida following a July 17 incident in which a homeowner fired several times at two teenagers who had parked in the street outside his house at about 1:30 a.m. while playing Pokémon Go. Authorities say their investigation is ongoing.
To the "parents of Pokémon Go Hunters," the sheriff's office offers several tips. "Talk to your kids about strangers and set limits on where your kids can go," it says. In addition, watch out for fake software. "Be aware of third-party software apps claiming to enhance the gaming experience. Unfortunately, many of these apps allow access to sensitive personal data."
For players, meanwhile, the sheriff's office urges them to "use common sense, be alert at all times and stay aware of your surroundings," adding that "in law enforcement, we call this situational awareness."
That's a message that police in multiple communities have been repeating, including in North San Diego County, where two men - both in their early 20s - fell off an ocean bluff, leading to both suffering moderate injuries.
"I think people just need to realize this is a game," Sgt. Rich Eaton of the San Diego County Sheriff's Department tells the Los Angeles Times. "It's not worth your life. No game is worth your life."