Obama's Cyber Showdown with China
White House Tiptoes Around Imposing Sanctions Against Chinese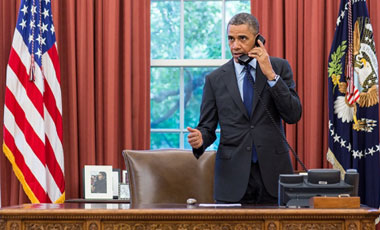 When President Obama comes face to face with China's President Xi Jinping next month, don't expect the American commander in chief to present an ultimatum to his Chinese counterpart over cybersecurity assaults on critical U.S. IT systems.
See Also: Attack Surface Management: Improve Your Attack Surface Visibility
White House Press Secretary Jay Carney, at his May 29 press briefing, tap-danced around a question from a reporter on whether the United States would impose sanctions against the Chinese because of cyber-attacks in which the Chinese have reportedly stolen military weapons' designs and corporate trade secrets.
The U.S. will indeed impose real costs on China should they continue to steal our intellectual property.
Carney didn't directly answer the question, instead noting that the relationship between the United States and China is broad and complex, adding that cybersecurity will be just one of many topics to be discussed, including North Korea, Asian stability, expanding bilateral military ties and climate change. "We have been clear in our concern about cybersecurity, our concern about the fact that there have been cyber-intrusions emanating from China," Carney said.
Dialogue on Cybersecurity
The administration expressed its growing concern during a just-completed trip to China by Tom Donilon, the president's national security adviser, who discussed with top Chinese leaders the intrusions into U.S. corporate, government and military IT systems emanating from China. Donilon has been the White House's point man on foreign cyber-intrusions.
Earlier this year, in a major foreign policy address to the Asia Society, Donilon called on China to investigate U.S. concerns, calling for a dialogue on cybersecurity [see U.S. Asks China to Probe, Stop Cyber-Intrusions]. Since then, China has agreed to participate in a working group with the United States to establish norms against the theft of trade secrets and confidential business information.
But the Chinese still seem to target U.S. computer systems to pilfer top military, government and corporate secrets. Just this week, a published report says the designs for many of the nation's most sensitive advanced weapons systems have been compromised by Chinese hackers [see Chinese Hack Targets Weapons' Designs]. That prompted a reporter to ask Carney: "To what extent do those intrusions, which include intrusions in U.S. military information, undermine cooperation in the other areas that you cited just now?"
Carney responded: "We have an important and broad and complex relationship with China. We are the two largest economies in the world, and we engage with the Chinese on an array of issues - economic, political, cultural, military. This will be an important topic of what promises to be a broad conversation about a number of issues between the President and President Xi."
Sage Advice
Obama should be unyielding in his discussions on cybersecurity with Xi, but avoid presenting ultimatums even if the Chinese are guilty of pilfering secret data from U.S. computers, which they deny. Besides, ultimatums tend to backfire.
How can Obama be firm with Xi? The president should take a carrot-and-stick approach, the carrot is cooperation with the Chinese to address their cybersecurity concerns (yes, Chinese computers get hacked, too). And the stick is new legislation before the Senate, sponsored by Sen. Carl Levin, chairman of the Senate Armed Services Committee.
Levin's Deter Cyber Theft Act would require the director of national intelligence to produce a report that includes a priority watch list of countries that engage in economic or industrial espionage against the United States in cyberspace. The bill also would require the president, if he determines such action is warranted, to block imports of certain categories of goods if they benefited from stolen U.S. technology or proprietary information.
In a letter to Obama dated May 29, Levin, D-Mich., writes: "I thought you could refer to this bill in your meeting with President Xi as an example that the U.S. will indeed impose real costs on China should they continue to steal our intellectual property."
Not quite an ultimatum, yet sound counsel.