Governance & Risk Management , SASE
Why Lookout Was Named A Security Service Edge (SSE) Visionary
Author: Hank Schless, Sr. Product Marketing Manager, Lookout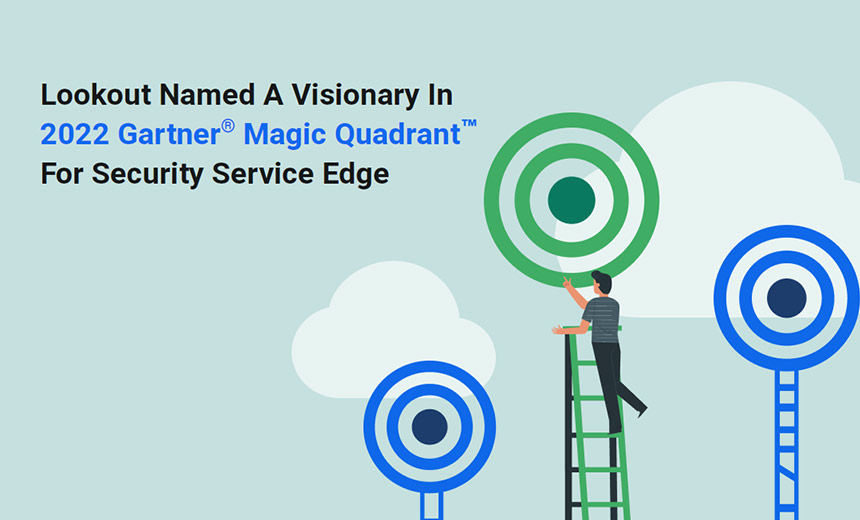 I'm excited to share that Lookout has been named a Visionary in the 2022 Gartner Magic Quadrant for Security Service Edge (SSE). As part of the Gartner analysis, Lookout also scored among the top three solutions in the 2022 Gartner Critical Capabilities for SSE. We believe our placement in these reports further validates the investment and commitment Lookout has made in the SSE market that began with the acquisition of CipherCloud in March 2021.
See Also: Live Webinar Tomorrow | Cyber Resilience: Recovering from a Ransomware Attack
Data Security Requires a New Approach
Modern enterprises are built on data. However, sensitive corporate data no longer resides exclusively on dedicated storage systems tucked safely behind the physical confines of a data center protected by a perimeter firewall. The unstoppable force of cloud computing has shifted IT paradigms and opened new avenues of attack.
Today, data is scattered all over the place, from public cloud services such as Amazon Web Services (AWS), Microsoft Azure, and Google Cloud Platform (GCP), to personal cloud storage solutions such as Box, Dropbox, Google Drive, Microsoft OneDrive and Apple iCloud. Not to mention there are now countless endpoints, including personal smartphones and laptops where data can be stored locally.
This "data sprawl" has become one of the biggest challenges to organizations operating in a cloud environment. The more spread out the data is, the more difficult it is to keep tabs on and to keep safe.
In short, the cloud has rendered legacy perimeter-based solutions ineffective. We believe this Gartner Magic Quadrant talks about this point and confirms that there's simply no other way to protect sensitive data in the cloud than with a comprehensive SSE solution.
Here is a breakdown of some of those key capabilities and use cases referenced in the Gartner Magic Quadrant and Critical Capabilities reports:
Identify and protect sensitive information
Legacy point solutions don't offer native DLP capabilities. External DLP appliances were often purchased separately and integrated. By applying our "cloud inspired" DLP capabilities to traffic passing through the common proxy, IT admins can now prevent sensitive information, such as intellectual property and confidential documents, from leaving the organization's perimeter due either to user error or data exfiltration to unsafe websites or to Shadow IT apps. This in-line security scanning provides full content inspection to prevent the exfiltration of sensitive data.
Another layer of security (and ultimate protection mechanism) is automated encryption through the Lookout EDRM. With our EDRM solution, sensitive documents are encrypted with a unique per-file key placed in the file's header along with other document metadata (e.g. permissions), all of which is further wrapped with a customer-specific master key. By attaching platform-independent access controls to sensitive files, only the apps and services intended to use the information can obtain it.
Secure web and cloud usage
With CASB, ZTNA and SWG built natively in a single, cloud-delivered platform, IT managers can apply the same consistent policies to all content transferred to and from SaaS-based apps, private enterprise apps or user-initiated internet traffic. This drastically streamlines the workflow needed to create policies, increasing efficiency while reducing the risk of human error.
Detect and mitigate threats
Besides DLP and EDRM, there are other embedded components in our platform that work across all the core SSE services (CASB, ZTNA, SWG) to detect and mitigate threats. For example, Lookout's UEBA analyzes online behavior patterns, looking for anomalies that could be indicative of a threat. Because it's integrated into our cloud-delivered platform, every service feeds our UEBA engine. Whether the user is accessing data from SaaS-based apps, private enterprise apps or the web, UEBA will monitor their activity and detect anomalies in behavior.
In addition, Lookout's Anti-Virus and Anti-Malware (AVAM) technology provides an additional layer of protection against known viruses and malware by scanning all cloud accounts along with network traffic as it passes through any of our core SSE services.
Connect and secure remote workers
Lookout SWG is used by enterprises to protect their employees from accessing and being infected by malicious web traffic, websites with vulnerabilities, internet-borne viruses, malware and other cyber threats. It also ensures compliance with the organization's regulatory policy. It's installed as a cloud-based software component, acting as a proxy (or intermediary) that inspects all incoming and outgoing traffic between remote clients and the internet.
Secure Your Data With SSE
The Covid 19 pandemic has turned the traditional enterprise inside out. As the new normal of hybrid work takes shape, the cloud has become the primary location for businesses to store data. With the traditional perimeter all but disappearing, the inspection point must move out of the centralized data center as close as possible to where the data is accessed, whether that's a cloud services (CASB), private application access (ZTNA), or the web (SWG). A unified SSE platform with a common intermediary "proxy" and a cohesive package of advanced data security controls provide all the security tools needed to secure the transition to the cloud.
Download complimentary copies of the 2022 Gartner® Magic Quadrant™ for SSE and Critical Capabilities reports to learn:
How SSE can help you reduce complexity, costs and management overhead.
Which SSE Gartner Critical Capabilities to focus on
Which Use Case/s could be applied to your organization and what to look for in an SSE vendor.
The analysis behind Lookout's placement