Anti-Phishing, DMARC , Cyberwarfare / Nation-State Attacks , Data Loss Prevention (DLP)
Julian Assange Gets Another Internet Timeout
WikiLeaks Founder Gets Internet Access Revoked For Meddling in Foreign Affairs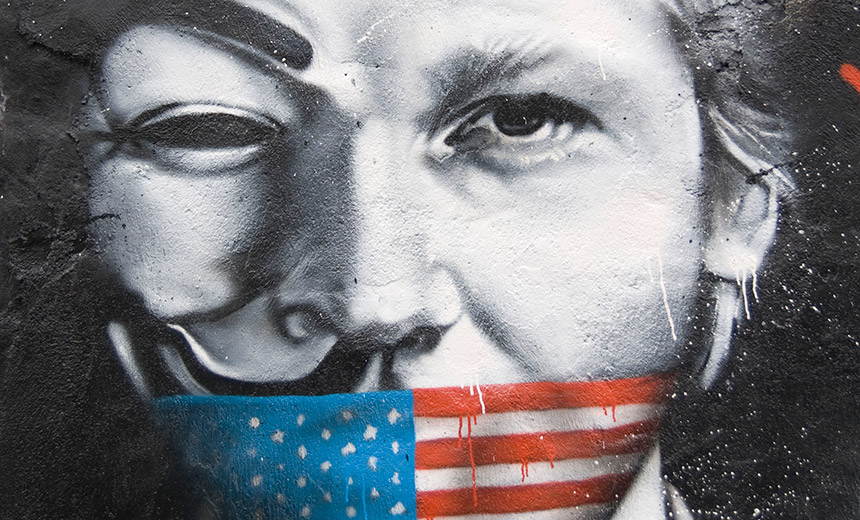 What's the fastest way to make a teenager apoplectic? Take away their internet access.
See Also: Threat Horizons Report
One can only imagine the psychological impact of doing the same to a recalcitrant houseguest of greater age - say, 46 years old - for whom internet access isn't seen as just a basic human right on par with food, water and television, but which also serves as one of their sole connections to the outside world.
"It's of great regret that Julian Assange remains in the Ecuador embassy."
The individual in question is Julian Assange, an Australian citizen who leads WikiLeaks, which bills itself as being an international non-profit journalistic organization focused on publishing secret information.
On Wednesday, the government of Ecuador announced that it had suspended Assange's internet access "in order to prevent any potential harm," following Assange having decried the arrest of a Catalan separatist politician.
Ecuadorian officials said Assange's social networking "puts at risk the good relations" Ecuador seeks to maintain with the United Kingdom, the rest of the EU and other nations.
COMUNICADO OFICIAL | El Gobierno de Ecuador suspende las comunicaciones de @JulianAssange. pic.twitter.com/sr4kArFSxw

— Comunicación Ecuador (@ComunicacionEc) March 28, 2018
Ecuadorian officials add that Assange failed to comply with a written agreement that he signed at the end of 2017, obliging him "to not issue messages that implied interference in relation to other states."
Houseguest: 6 Years and Counting
Assange has been living in Ecuador's embassy in London since June 2012, when he voluntarily sought refuge there to escape extradition to Sweden to face allegations of sex crimes.
Despite entering the embassy of his own volition, he has continued to maintain that he is a political prisoner.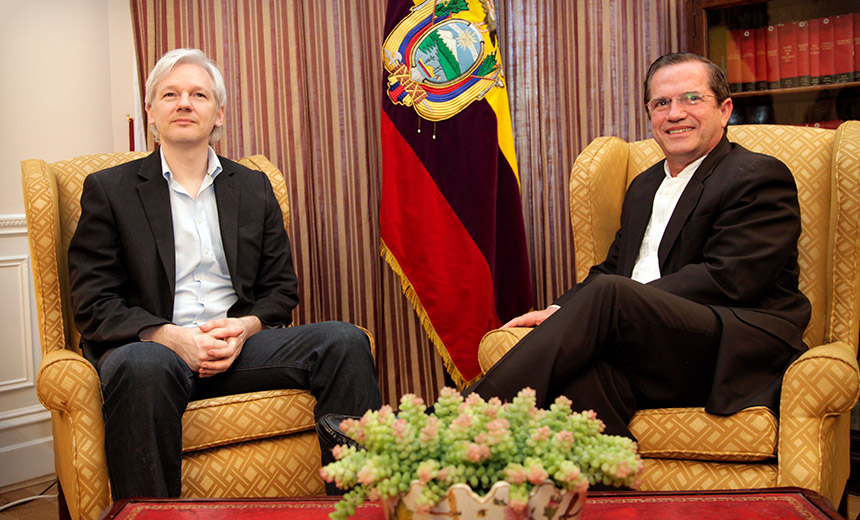 Julian Assange pictured in 2013 in Ecuador's embassy in London with Ecuadorian politician Ricardo Armando Patiño Aroca. (Photo: Xavier Granja Cedeño via Flickr/CC)
Police in London continued to monitor the embassy around the clock until October 2015, when the constant police presence was removed. In a statement issued at the time, the Metropolitan Police Service said it was "no longer proportionate to commit officers to a permanent presence," saying they had already spent $18 million guarding the embassy. But police said they fully intend to arrest Assange should he ever emerge. He remains wanted on an English arrest warrant for skipping bail when he took up residence in the Ecuadorian embassy in 2012, pending his extradition hearing.
Assange denies any wrongdoing, maintaining that the Swedish charges against him were fabricated as part of a U.S. government plot to secure his extradition to face charges that he helped leak secret U.S. diplomatic cables (see Report: US Government Preps WikiLeaks Charges).
Last year, Sweden said it was suspending its investigation since it appeared unlikely that Assange was going to appear anytime soon. But prosecutors said they remained ready to reopen the investigation at a later date (see After Outlasting Sweden, WikiLeaks Founder's Fate Murky).
'Miserable Little Worm'
British officials have not forgotten that Assange remains resident in their capital city.
"It's of great regret that Julian Assange remains in the Ecuador embassy," Alan Duncan, a British government foreign affairs minister, said Wednesday during a House of Commons question-and-answer session. "It's about time that this miserable little worm walked out of the embassy and gave himself up to British justice."
Assange chose to respond via Twitter.
"As a political prisoner detained without charge for 8 years, in violation of 2 UN rulings, I suppose I must be 'miserable'; yet nothing wrong with being a 'little' person although I'm rather tall; and better a 'worm,' a healthy creature that invigorates the soil, than a snake," Assange said.
Not long after, Ecuador cut his internet access.
Repeat Offender
This isn't the first time that the Ecuadorian embassy in London has given Assange an internet timeout for attempting to meddle in foreign affairs.
In October 2016, WikiLeaks reported that Assange's internet connection had been cut. Using the cloak-and-dagger spy thriller language that the organization prefers, it blamed an unnamed "state party" for the outage.
The state in question turned out to be none other than Ecuador, which cut the connection after WikiLeaks published what appeared to be transcripts of three speeches delivered by then-Democratic presidential candidate Hillary Clinton to financial services firm Goldman Sachs. The speeches were reportedly stolen from Clinton campaign chairman John Podesta's email account (see Ecuador Kiboshes WikiLeaks Leader's Internet Connection).
WikiLeaks has continued to leak sensitive information, including a batch of reported CIA attack tools that it dubbed Vault 7 and dumped last year (see Apple Says Latest WikiLeaks CIA Attack Tool Dump No Threat).
WikiLeaks: Unwitting Russian Stooge?
But WikiLeaks' star has continued to fall, in part after the organization was named by the U.S. intelligence community as having been used by Guccifer 2.0 - a persona that many now believe to have been Russia's GRU military intelligence agency - to dump stolen information. U.S. national security chiefs say the leaked information was stolen from the U.S. Democratic National Committee as part of a Moscow-backed effort to interfere in the 2016 elections by boosting Republican Donald Trump's chances against his rival, Hillary Clinton (see Russia Will Meddle in US Midterm Elections, Spy Chief Warns).
Working on behalf of Russia's military intelligence agency is "one of the reasons WikiLeaks has kind of fallen ... they certainly lost the vast majority of public support, because they've been shown a number of times to be effectively stooges - albeit unwittingly I think - for the Russians, and Guccifer [2.0] was one of their big leaks," Alan Woodward, a professor of computer science at the University of Surrey, tells me.
The most recent evidence to emerge of Guccifer 2.0's real identity - tied to an apparent failure to activate a VPN, revealing an IP address assigned to the GRU's headquarters building in Moscow - "just shows that [WikiLeaks] were being fed a line, they were serving someone else's agenda," Woodward says (see Analysis: VPN Fail Reveals 'Guccifer 2.0' is 'Fancy Bear').