Legislation & Litigation , Next-Generation Technologies & Secure Development , Standards, Regulations & Compliance
Intel Sets McAfee Free
But Long-Gone Founder John McAfee Files Suit to Reclaim His Name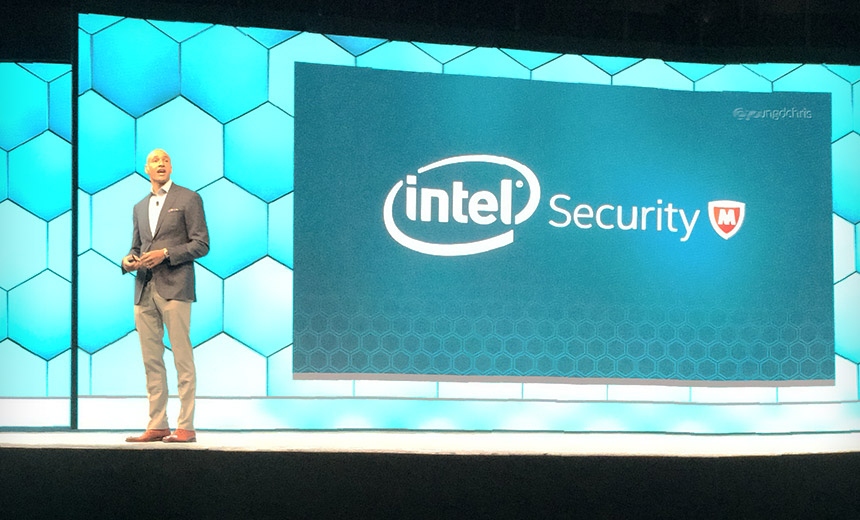 As the famous line attributed to Shakespeare goes: "What's in a name?"
See Also: Live Webinar | Breaking Down Security Challenges so Your Day Doesn't Start at 3pm
Chipmaker Intel (Nasdaq: INTC) announced Sept. 7 that it will be spinning out its Intel Security unit, which will once again be named McAfee, becoming what Intel bills as one of the world's biggest "pure-play cybersecurity companies."
Under the terms of the deal, McAfee will be valued at $4.2 billion. TPG - one of the world's largest private equity investment firms, which oversees $70 billion - will own a 51 percent stake in the newly formed, independent company, while Intel will retain a 49 percent stake and receive $3.1 billion in cash. Intel says it expects to close the deal in the second quarter of 2017.
The new company will be led by Chris Young, a former Cisco senior vice president who's now the general manager of Intel Security.
The terms of the deal represent a major decrease in the value of the information security business, which Intel purchased for $7.68 billion in 2011 as part of a bid to bake security into its chips. "In the past, energy-efficient performance and connectivity have defined computing requirements," Paul Otellini, Intel president and CEO, said at the time. "Looking forward, security will join those as a third pillar of what people demand from all computing experiences."
That plan, however, never came to fruition. Perhaps the businesses simply never meshed? As Financial Times recently noted, McAfee's then-CEO David DeWalt, who helped lead the sale, left to form cybersecurity firm FireEye, while McAfee president Mike DeCesare exited the firm in 2014 and is now the head of cybersecurity firm ForeScout.
The McAfee spinoff wasn't a surprise, as it followed Financial Times reporting in June that Intel was exploring the option. Arguably, Intel was never able to truly cash in on McAfee's potential. In 2010, Intel said McAfee had $2 billion in annual revenue and 6,100 employees. When announcing news of McAfee's spinoff, Intel said it had $1.1 billion in annual revenue for the first half of 2016 and 7,500 employees.
News of the deal follows Intel announcing in April that it would cut its workforce by 11 percent, laying off about 12,000 workers, as part of a bid to focus more on building chips for cloud computing. Industry watchers say Intel has been challenged by declining PC sales and its inability to capitalize on the smartphone revolution.
Name Game
Meanwhile, the right to use the McAfee name is under legal contention.
By way of background, Intel had rebranded parts of its McAfee unit as Intel Security beginning in January 2014, although it did continue to use the McAfee name for certain parts of the business.
The rebranding push appeared to be a reaction to the well-documented saga of company founder John McAfee having fled Belize after being wanted for questioning in connection with a murder investigation. The self-described "eccentric millionaire" was ultimately arrested in Guatemala for illegally entering the country and deported to Miami.
While John McAfee founded McAfee Associates in 1987 and sold his stake in the company in 1994 for about $100 million, he has not been a part of his namesake since. Meanwhile, McAfee Associates was renamed Network Associates in 1997 - formed by merging Helix Software, McAfee Associates, Network General and PGP Corporation - then changed its name back to McAfee in 2004.
McAfee vs. McAfee
The news of Intel partially rebranding McAfee as Intel Security in 2014 was celebrated by John McAfee. "I am now everlastingly grateful to Intel for freeing me from this terrible association with the worst software on the planet. These are not my words, but the words of millions of irate users," McAfee told the BBC at the time. "My elation at Intel's decision is beyond words."
His remarks followed a now-infamous - and not-safe-for-work - video released in 2013, featuring McAfee in a smoking jacket, attempting to uninstall the eponymous software.
In June, MGT Capital Investments (Nasdaq: MGT) and John McAfee announced that they planned to rename MGT as "John McAfee Global Technologies, Inc.," featuring John McAfee as its executive chairman and CEO.
On Sept. 2, however, MGT and John McAfee filed suit against Intel, in response to a legal warning they said that they received from the technology giant. The complaint references a June 3 letter from Intel's managing counsel, Kelly Smith, which allegedly reads: "As you surely are aware, Intel (under its Intel Security division) uses the McAfee trademark in connection with its portfolio of anti-virus and other security solutions and services," and adds that the company owns a number of trademarks related to the name.
The letter further asserts that "McAfee sold the MCAFEE trademark to McAfee Associates, LP [a predecessor company] ... [and] forfeited any right to use the McAfee name in connection with security solutions and services." In particular, it adds, any attempt to create a company named "John McAfee Global Technologies, Inc." would result in Intel "tak[ing] all necessary legal action to protect its trademark rights."
Intel declined to comment on the lawsuit.
Welcome to the Cyber Party
In their complaint, however, McAfee and MGT dispute that John McAfee ever signed away his right to use his name. "At no point in the agreement did McAfee assign the rights to his personal name, via assignment of trademark or otherwise, or agree to restrict his right to do business using his own name," according to their complaint.
"I want my name back in its original, untarnished, pristine condition," reads a Sept. 5 tweet from John McAfee, whose Twitter profile still lists him as a 2016 presidential candidate.
McAfee had announced his entry into the race in September 2015 as head of a newly created "cyber party" (see Guess Who's Running for President? John McAfee).