Howard Schmidt: The Pragmatic Optimist
Cybersecurity Coordinator Still Hopeful a Year After Appointment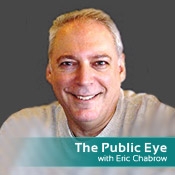 Howard Schmidt remains the pragmatic optimist he was when President Obama tapped him to be cybersecurity coordinator a year ago Tuesday.
When I spoke with Schmidt in a rare, one-on-one conversation just over a month after he took office, he understood the threats the government and the nation's IT infrastructure faced but expressed optimism that the menace could be handled:
"I've been in this business long enough, that I've gone from being the doom-and-gloom to understanding we've come a long way. I am tremendously optimistic about the talent we have, the leadership we have in this area now across the board, both in government and private sector, the international attention being paid to this. I can't help but be optimistic, because we've come a long way."
That optimism hasn't diminished, despite a year's worth of cyber attacks against well-protected targets, including Stuxnet - the virus that targeted Iran's nuclear facilities - and the WikiLeaks revenge assaults targeting MasterCard and Amazon. Schmidt, in an interview with Newsweek, equated those revenge attacks as the online version of street protests that shut down traffic, with a minimal, long-term impact. Yes, he says, many threats are real:
"There are no absolutes in security; we've seen that in the history of humankind. Is there potential for somebody to get into some segment of the grid? Absolutely. We've seen that, we've reported it, we've had law enforcement investigating it. Catastrophic failure is still the part that I don't believe is likely, and anybody who intends to try to do that is probably going to meet more resistance than they're prepared for."
Schmidt says he understands a new breed of cyber attacks are more advanced than in the past:
"I don't think that's a false perception. I recognize - and many of my colleagues in the private sector and in government recognize - that there's a real threat out there. But the threat sort of follows the way we build our defenses against it, and I think those things continue to move in parallel."
When I spoke with Schmidt, he dismissed concerns that his optimism is merely a tactic not to scare the public:
"I don't view the world with rose-colored glasses; that's for sure."