Data Loss Prevention (DLP) , Governance & Risk Management , Incident & Breach Response
Trump Campaign Aide Knew Early About Hacked Democratic Emails
Court Document: George Papadopoulos' Emails Reveal Attempts for Trump-Putin Cooperation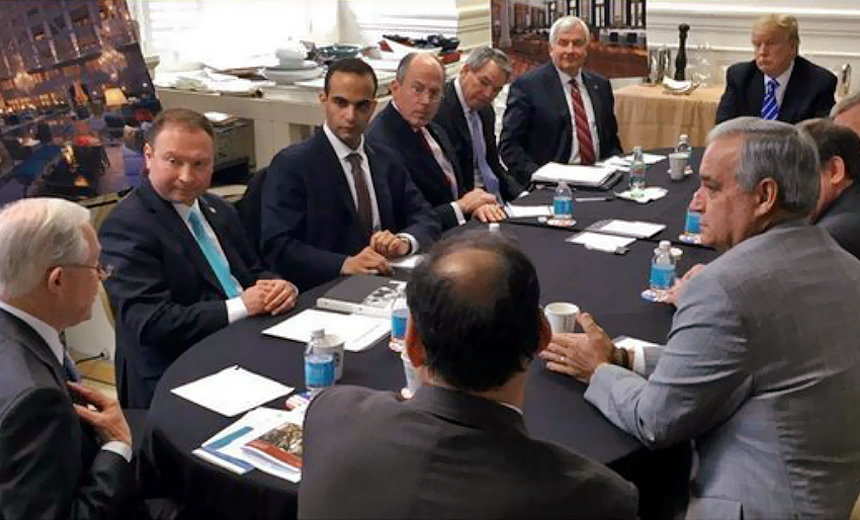 George Papadopoulos has learned what information security and privacy experts have preached for years: Resist putting sensitive content in emails or social network postings. Such postings, in part, led to his indictment in connection with the continuing investigation into Russia's influence on the 2016 presidential election.
See Also: Live Webinar | Breaking Down Security Challenges so Your Day Doesn't Start at 3pm
Papadopoulos, 30, is a former foreign policy adviser to Donald Trump's presidential campaign. He pleaded guilty Oct. 5 - his plea was unsealed on Monday - to lying to FBI investigators about his role in trying to connect the Trump campaign to individuals with close ties to the Russian government.
"Two can keep a secret if one of them is dead, and there are no emails, texts, voice messages, social media postings, documents, recorded calls, screen captures, backups or printouts."
During an FBI interrogation, Papadopoulos fessed up that his primary contact with the Russians, known as "the professor," told him on April 26, 2016, that "they [the Russians] have dirt on her. ... The Russians had emails of Clinton. ... They have thousands of emails," according to a 14-page "statement of offense" filed Monday with the Federal District Court for the District of Columbia.
That was nearly three months before WikiLeaks published on July 22 emails stolen from Democratic National Committee computers.
What's unclear from the statement is if Papadopoulos informed senior campaign officials of the emails. The court document, however, outlines that Papadopoulos repeatedly informed senior campaign officials of his outreach to the Russian government.
Several news media outlets identified the professor as Joseph Mifsud, a pro-Kremlin, London-based university professor. According to the New York Times, Mifsud is an enthusiastic promoter of Russian President Vladimir Putin and regularly attended the annual Valdai Discussion Club conference Sochi, Russia, that Putin attends. In an August interview with the Washington Post, Mifsud denied any contact with the Russian government, saying his Russian connections are merely academic.
Emails Encouraged Trump-Putin Cooperation
The court document also references a number of emails Papadopoulos sent to his Russian contacts - the professor, a foreign ministry official and a Russian woman Papadopoulos mistakenly believed was Putin's niece - as well as a Trump campaign supervisor and several members of the campaign foreign policy team.
Many of those emails - as well as Skype conversations - dealt with attempts to arrange a meeting between the Trump campaign and Putin. "The Russian government has an open invitation by Putin for Mr. Trump to meet him when he is ready," Papadopoulos emailed a senior policy adviser for the campaign in late April 2016, according to the court document.
Papadopoulos met Trump for the first time on March 31, 2016, at Trump's Washington hotel, where members of the campaign's foreign policy team met with the candidate, according to the New York Times. Papadopoulos spoke about his contacts with the Russians and a prospect for a meeting. But citing a senior adviser, the Times reported that then Sen. Jeff Sessions, now attorney general, said, "We're not going to do it," and he added, "I'd prefer that nobody speak about this again."
Still, Sessions' sharp words didn't deter Papadopoulos as he continued to connect online with his Russian connections.
The Russian foreign ministry official, in an email sent May 4, expressed interest in pursuing a relationship with the Trump campaign, according to the court document. "I have just talked to my colleagues from the MFA (Ministry of Foreign Affairs)," the email read. "The[y] are open for cooperation." Papadopoulos responded, "Glad the MFA is interested." Papadopoulos forwarded the May 4 email to a high-ranking Trump campaign official, the court document indicates.
Papadopoulos' Impact
The significance of Papadopoulos shouldn't be underestimated as Special Counsel Robert Mueller probes possible collusion between the Trump campaign and the Russians to influence the 2016 U.S. presidential election. Papadopoulos is the first individual who demonstrates such a link could exist.
"This is a matter of national importance," says Chief Judge Beryl Howell of the D.C. federal district court in a statement regarding the grand jury investigation into ties between the Trump campaign and Russia. "The United States, through the Special Counsel's Office, is investigating foreign interference in the 2016 presidential election and potential collusion in those efforts by American citizens."
Among the evidence Mueller's investigators have uncovered are emails, texts and social media postings. Attempting to delete them doesn't mean investigators can't uncover them.
A day after a second interview with the FBI, Papadopoulos on Feb. 17 deactivated his Facebook account, which he had maintained since 2005. That social media account contained information about communications he had with the professor and his Russian foreign ministry contact. Less than a week later, Papadopoulos ceased using his cell phone number and began using a new one.
In this era of instant communications in which messages never seem to vanish, words can come back to haunt individuals, as Papadopoulos discovered.
As Steven Chabinsky, the former FBI deputy assistant director for cyber, observes: "Two can keep a secret if one of them is dead, and there are no emails, texts, voice messages, social media postings, documents, recorded calls, screen captures, backups or printouts."