Hackers Disrupt North Korea Video Game
Satirical 'Glorious Leader' Is Canceled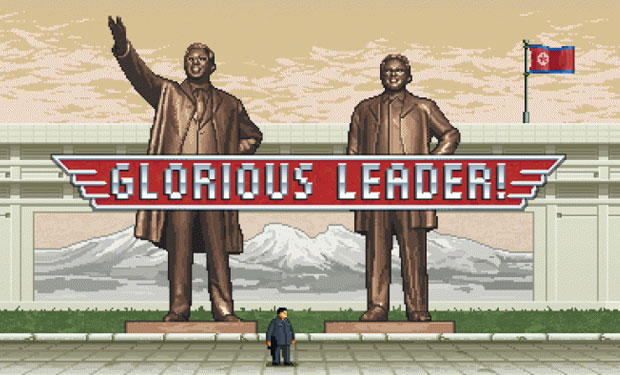 Turns out Sony Pictures Entertainment isn't the only hacking target for those who object to satirical portrayals of North Korean leader Kim Jong-un.
See Also: Live Webinar | Cyber Resilience: Recovering from a Ransomware Attack
The developer of a video game starring the leader says it was hacked, derailing the project. But it doesn't appear the hackers of this small-scale project are the same as those involved in the massive Sony attack.
Kim Jong-Un ... defeats the American Army, while tapping the magic of unicorns, narwhals and former basketball star Dennis Rodman
Sony's comedy film "The Interview" - which hacking group Guardians of Peace cited as the reason for targeting the movie studio - featured a pair of American tabloid journalists sent to interview Kim Jong-un in the North Korean capital of Pyongyang, who must act to avert a war with the United States.
But those playing the proposed video game "Glorious Leader!" would have been able to fill the shoes of Kim Jong-Un as he defeats the U.S. Army, while tapping the magic of unicorns, narwhals and former basketball star Dennis Rodman - all lovingly rendered in '80s-style, pixelated graphics.
"Glorious Leader" was billed as being "a satirical 16-bit run 'n' gun" game by Atlanta-based software development firm Moneyhorse Games, which promised a "retro-style game for PCs and mobile devices" in which players "take up the mantle of Kim Jong-un as you battle the entire American Army" across land, sea and air.
The game's release, however, has now been disrupted. "As many of you know, over the holidays we were victims of a hack inspired by the attack on Sony. The hackers destroyed data pertaining to 'Glorious Leader!' and other projects we had in development and locked us out of our own computers and website," according to a Jan. 8 statement posted by Jeff Miller, who runs Moneyhorse, to the game's Kickstarter page.
While the game was originally due to be released in November 2014, the developers launched a 30-day Kickstarter appeal in December to obtain a crowd-funded cash infusion that would enable them to finish the game.
Following the hack, Moneyhorse was able to regain access to the hacked computers and recover all of its data. But the attack "hampered our ability to attend to the Kickstarter project," Miller said. "We realize that we also made mistakes in our pledge levels and rewards. It is now evident that our funding goals will not be met, so we are cancelling our Kickstarter campaign."
When Moneyhorse canceled the "Glorious Leader" Kickstarter project, it had earned only $16,816 towards its $55,000 goal.
Glorious Leader Promotional Poster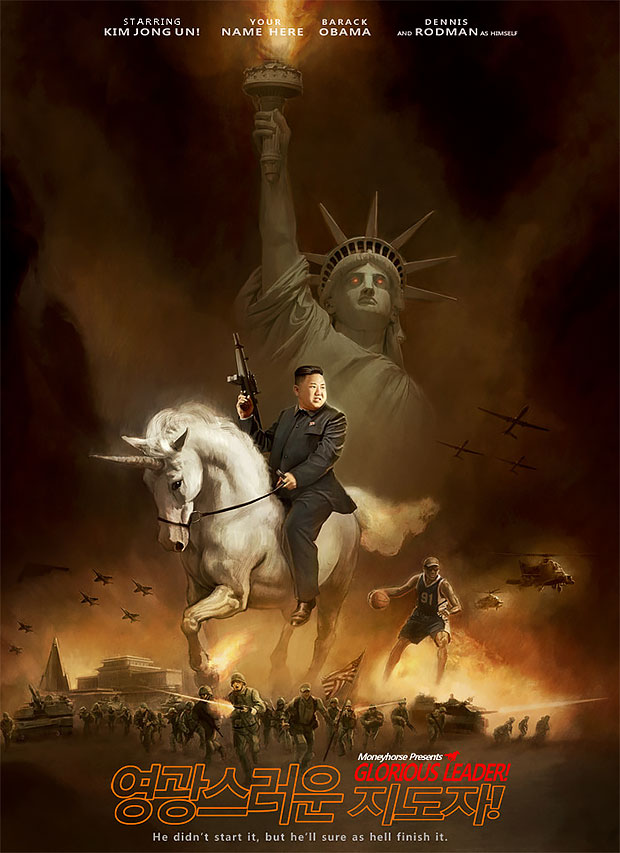 Source: Moneyhorse Games
Moneyhorse didn't immediately respond to an e-mailed request for further attack specifics. But via Kickstarter, the software development house said that in addition to the hack, it had been at the receiving end of multiple, unspecified threats in relation to the game.
The game development house has dismissed any suggestion that it had been attacked by the Guardians of Peace, who claimed credit for the Nov. 24 wiper malware attack against Sony Pictures as well as leaking tens of gigabytes of sensitive corporate data. The U.S. Federal Bureau of Investigation has attributed the "G.O.P." attacks to North Korea. Numerous information security experts continue to question that attribution, however, based on the scant evidence released by the FBI to date, as well as what appear to be contradictory clues suggesting that studio insiders or even native Russian speakers may have been involved.
"We are sure that this is a hoax perpetrated by amateurs," Miller said of the hack of Moneyhorse's systems in December. "We have no reason to believe that this was done by the G.O.P. or anyone affiliated with North Korea. It appears to be an opportunistic copycat, as we have been the target of hacking attempts in the past."
On Kickstarter, some pledgers had questioned the pace of funding-related updates posted by developers in the early days of the 30-day Kickstarter campaign. "Given the unexpected (?) press coverage due to 'The Interview' and all, this was a pretty bad start," one backer posted. "Also, projects where there is not a single update in the 1st eight days usually don't make it."
Others, however, said they'd been closely following game development since it was revealed in May. "I think it would be rather sad if [you] cancel the whole thing due to [the] attacks," another backer commented. "Hopefully you will put something out no matter how small or bad, just to stick it to them."
Indeed, given the Sony hack furor, which helped "The Interview" set an online-viewing box office record for Sony Pictures, I'm betting that a rebooted "Glorious Leader" campaign could succeed. That's providing, of course, that beyond its lampooning of America's ideological enemies, it's fun to play.