EMV: Will Fraud Spur Chip Adoption?
Sizing Up the Long-Term Impact of the Oct. 1 Fraud Liability Shift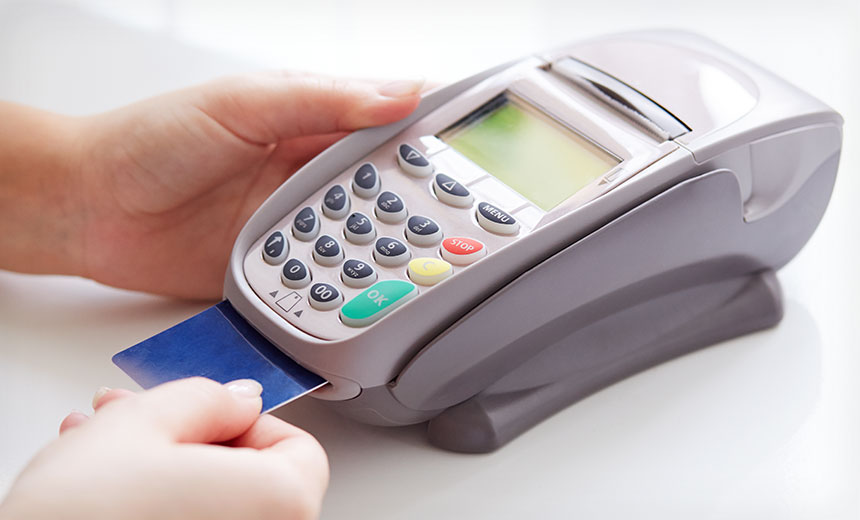 The Oct. 1 fraud liability shift date, designed to boost widespread adoption of EMV chip cards and chip-ready point-of-sale terminals, will take a while to achieve its intended impact.
See Also: Live Webinar | Cyber Resilience: Recovering from a Ransomware Attack
As a result of the shift, liability for fraudulent card-present magnetic transactions falls back onto merchants if they're not equipped to accept EMV chip payments - that is, if the cardholder has a chip-enabled card that the merchant can't accept.
"We all know it will be at least two to three years before the U.S. is anywhere close to being fully EMV compliant. But it will be interesting to see how much of a motivator the liability shift proves to be."
No one seems to really know what percentage of U.S. consumers actually have chip cards in their wallets right now, or how many merchants have upgraded their point-of-sale terminals to accept EMV chip cards (see EMV: Why U.S. Will Miss Oct. Deadline).
Visa estimates that as of Sept. 15, its issuers had distributed 151.8 million chip cards the U.S. and more than 314,000 U.S. merchants had been equipped with chip-activated POS terminals. Experts I've contacted tell me that between 60 and 70 percent of U.S. credit cards are now chip-enabled. Only about 30 to 40 percent of debit cards have made the transition.
And only about 30 percent to 40 percent of POS terminals are EMV-enabled, experts estimate.
Stephen Orfei, general manager of the PCI Security Standards Council, pointed out in an inteview I conducted with him this week that most big-box retailers, such as Walmart and Target, have made the shift. And because they account for most of the payment transaction volume in the U.S., we really are further along that we appear to be.
Orfei makes a good point. But having the terminals chip-ready doesn't do any good if the merchants don't have the chip readers turned on.
One merchant I frequent on a regular basis - a family-owned drycleaner - is currently accepting my chip card. My regional chain grocery store, Kroger, however, is not.
The terminals at Kroger are chip-enabled, but the feature won't be turned on until the end of the month, my cashier tells me.
I was impressed the cashier had been informed about the EMV switch and was able to answer my question about when I could start using my chip card. But the fact that Kroger is waiting until the end of the month to turn on the EMV feature is disappointing.
I'll be curious to see how many more of my regular merchant stops start accepting chip cards this week. I plan to go out and do a little testing, just to see.
I pinged a few sources on Oct. 1 to see what they thought about the shift.
Ben Knieff, a financial fraud analyst at the consultancy Aite, tells me: "Of two major retailers I've visited this morning, neither were quite ready, and only one had provided training to the front-line staff. I'm not surprised the smaller ones aren't there yet - but the bigger ones, especially in New York City, with lots of tourists, leave me a little surprised."
Julie Conroy, another fraud analyst at Aite, says the next 90 days will be "the real wake-up call" for merchants that haven't started accepting chip cards, because they will surely start to feel the impact of chargebacks linked to fraudulent transactions.
But Avivah Litan, a fraud analyst at the consultancy Gartner who blogged about some of the challenges merchants face when it comes to EMV adoption, says she doesn't think non-compliant merchants will feel much impact.
"Considering the card-issuing fraud rates on card-present fraud are only about 7 to 10 basis points, I think we will only see a net increase of about 2 to 3 basis points in card-present fraud fall over to merchants over the next two to three years, given the expected EMV adoption rate," she says. "Of course, that assumes that the card issuers keep their fraud-detection systems in place and don't disable them when they don't absorb liability on a transaction, which would be totally controversial."
That's contrary to what Gord Jamieson, who heads up risk and acquirer services for Visa in Canada, said this week at Information Security Media Group's Fraud Summit Toronto.
Jamieson said Canadian merchants that didn't make Canada's October 2012 liability shift date were quickly motivated to make the EMV investment after chargebacks for fraudulent transactions started hitting them. Others at the summit shared Jamieson's view, and said that merchant adoption of EMV really kicked into high gear in Canada after the liability shift.
Poor Consumer Experience?
We'll have a much clearer picture over the course of the next several weeks of the impact the liability shift is going to have on U.S.
Most U.S. merchants have been dragging their feet because they fear EMV will slow transactions, or that consumers will be confused. But I can tell you from my experience, neither fear is valid. As a consumer, I enjoyed using my chip card while in Toronto this week. And it was refreshing to know that my card was going to be accepted everywhere I went.
Transactions were not delayed; they were just handled differently. I didn't have to sign anything, because I conducted low-dollar transactions, so that actually helped speed up the purchasing process. I also didn't have to enter a PIN.
What's more, I never felt that my use of the chip card was causing a delay for those waiting behind me in line.
I was pleased, overall, with the experience. And I'm ready to use my chip card in the USA.
We all know it will be at least two to three years before the U.S. is anywhere close to being fully EMV compliant. But it will be interesting to see how much of a motivator the liability shift proves to be.