Earning Trust in NSA Intel Gathering
Snowden Leak Sparks a Needed Debate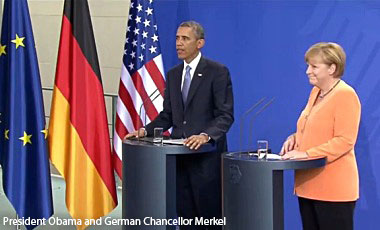 President Obama and his national security team want American citizens and others around the world to trust them on the way the U.S. intelligence community collects data from Internet and telephone communications in their search for international terrorists.
See Also: Threat Horizons Report
"This is not a situation in which we are rifling through the ordinary e-mails of German citizens or American citizens or French citizens or anybody else," Obama said at a Berlin press conference June 19, with German Chancellor Angela Merkel standing by his side. "This is not a situation where we simply go into the Internet and start searching any way that we want. This is a circumscribed, narrow system directed at us being able to protect our people. And all of it is done under the oversight of the courts."
This is a debate that I welcome. ... That's what democracy is about.
Do you believe the president? Do you trust that Obama and his intelligence team tell the truth about the processes behind two secret intelligence-gathering programs leaked earlier this month by Edward Snowden, a former contractor at the National Security Agency?
Trust is vital. As former White House privacy counselor Peter Swire points out in an interview with Information Security Media Group, the United States has a long history of abusing intelligence gathering, including FBI Director J. Edgar Hoover monitoring Dr. Martin Luther King, Vietnam War protestors and one-third of the delegates to the 1968 Democratic National Convention [see NSA Leak: Lessons for CISOs, CPOs]. Indeed, the law that governs today's intelligence-gathering programs was an outgrowth of old abuses of intelligence gathering by the CIA, FBI and NSA.
A Different Type of Disservice
Snowden's unauthorized disclosures did the administration a disservice - not because he broke his oath and revealed government top secrets [that's not what I'm addressing here], but because he showed the Obama administration was not as transparent as it should be.
One of the programs Snowden divulged involves querying databases of what basically consists of the same information found in your phone bills. The other program, known as PRISM, involves U.S. intelligence agencies collecting Internet communications, such as e-mails and social media postings of non-Americans overseas. Both programs are aimed at connecting the dots in trying to identify potential terrorists - a worthy goal.
Obama, NSA Director Gen. Keith Alexander and others in the intelligence community and Congress contend that Snowden's revelations damage the security of the United States and others nations and endanger the safety of their citizens.
But the terrorists likely believe the United States already reads their e-mails, monitor their phone calls and intercepts their Internet communications. If that's the case, why keep the programs secret?
Avoid the Ruckus
If the Obama administration and intelligence community had made the existence of these programs public before the leak, and on their own terms, all the fuss and misinformation about the programs never would have materialized, and Americans would be more trustful of their leaders.
Think about it: Would there be much ruckus if Americans knew that of the millions of possible phone numbers available for the government to search, the NSA queried fewer than 300 of them, as NSA Deputy Director Chris Inglis told lawmakers earlier this week? It would be perceived by many as much ado about nothing. I take Inglis at his word, yet by discussing these programs only after being forced to by the Snowden leaks raises concerns about the lack of transparency.
Much of what occurs in these programs is unseen, such as orders to intercept potential terrorists' Internet communications issued by the secret Federal Intelligence Surveillance Court. That makes sense; we don't want terrorists to learn of the government activities aimed at identifying and capturing them. But such secrecy raises suspicions with the public, and that's not good for creating trust. More transparency that reveals the existence of these programs without providing many of the details will help build that trust.
It's encouraging that the president said he wants to seek ways to declassify more information about these programs without compromising their effectiveness. "This is a debate that I welcome," Obama said, referring to programs that amass information about telephone and Internet communications of individuals. "That's what democracy is about, and I'm confident that we can strike this right balance, keep our people safe, but also preserve our civil liberties even in this Internet age."
Let's hope that this debate will make the administration and the intelligence community more transparent about the ways they collect information about citizens, which, in turn, will build trust, without sacrificing the essential top-secret programs essential to identify terrorists and keep us safe.