Detecting and Deterring ACH and Wire Transfer Fraud
How New Technology Is Stopping the Bad Guys
According to the National Automated Clearing House Association, the number of ACH payments climbed from about 4 billion in 1996 to 18.2 billion in 2008, and the dollar value of those payments nearly tripled, to $30 trillion, in the same period. In fact, the FBI has seen a 38 percent increase in wire transfer fraud in 2011 alone. The primary targets: small-to-medium-size banks, businesses, schools and organizations. These "soft target" organizations often employ less security infrastructure, or are known to rely on traditional security systems and legacy applications.
Successful wire fraud attacks cause losses averaging between $100,000 to S200,000 per victim. So, it's not surprising that banks are being sued by business customers for alleged failures to prevent fraud via ACH. While banks recognize the need for more effective monitoring, the traditional methods of ACH and wire fraud detection are expensive and slow to implement.
Red Flags of Fraud
The next generation of enterprise fraud management tools can be configured to alert you to suspicious behavior the minute it happens.
The recent rise in fraud and the evolution of the threat environment have created new opportunities for both the criminal and the investigator. Luckily, the next generation of enterprise fraud management tools can be configured to alert you to suspicious behavior the minute it happens. Since a single successful attack method is often replicated, fraud detection can often take advantage of patterns and behavioral analysis to discover theft early on, even detecting anomalies and precursors to fraud.
Based on our work with financial institutions, here are some examples of red-flag activities we commonly discover:
Customers who exhibit signs of being attacked by phishing, fishing, malware, fraudulent ACH debits or social engineering.
Customers who have fallen victim to common fraud scams; e.g., money mules and lotteries.
Dangerous transactions, such as those initiated via high-risk channels (e.g., phone or web) or those involving "risky" accounts (e.g., a new account or one with insufficient activity to provide a behavioral baseline).
Reports that identify customers who are prime candidates for ACH filters, debit-only accounts, or other security features already built into your payment systems.
Customers with high rates of ACH returns or who show other signs of initiating fraudulent ACH debits.
Customers who are kiting via wire or ACH.
Employees who are fraudulently manipulating ACH or wire transactions.
Often, the activities that lead up to fraud, such as the ones listed above, occur over a range of systems with limited logging - making it even more challenging to discover the early traces of fraud.
How the Next Generation of Fraud Technology Can Help
The next generation of enterprise fraud management solutions offers a unique combination of real-time alerts and behavioral analytics across multiple channels, giving you complete visibility into activity on the corporate network and from other sources. Using risk-based scoring to handle each alert and eliminate false positives, thresholds can be raised or lowered to trigger an immediate alert or to simply elevate a customer's score to monitor for risky behavior. With these solutions, you can quickly build a profile of "normal" activity for each customer and account - including amounts, payment velocity, preferred channels, payees and transaction types. Unusual transactions are immediately identified and blocked, pending a review by fraud investigators. You can even run historical queries against collected data to gather the intelligence you require.
What's more, many of these tools include an easy-to-drive, wizard-based analytics engine that enables users to refine or add additional rules as needed. State-of-the-art investigation centers provide a way to collect an evidence trail that is protected and forensically sound from a simple-to-use command center. Understanding the "why" of a certain activity and accessing activities through link analysis tools can reduce investigation time from months to a matter of days or even hours.
Take a moment to look at the new tools that are available to combat fraud - and stay one step ahead of the fraudsters. You might like what you see.
Find Out More.
Get the Gartner Report on EFM. A logical and frequent target of fraudsters, the financial services sector was an early adopter of EFM systems. But other sectors, such as healthcare, insurance and government, are increasingly purchasing fraud and misuse management systems, often to respond to government regulations.
If you are interested in learning more about how these systems can support your tactical fraud and misuse prevention objectives (for a specific product or channel), I encourage you to download the current Gartner MarketScope on Enterprise Fraud Management and Misuse. This independent report, authored by leading analyst Avivah Litan, provides overview information about how organizations are using these technologies today as well as reviews of solutions and providers in the category. Download your complimentary copy here.
About the author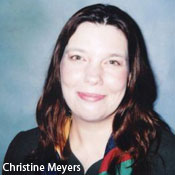 Christine Meyers is the product marketing manager for Attachmate Luminet and has been writing on emerging technologies, risk and compliance for over a decade. Follow her Tweets on issues related to enterprise fraud, investigation and behavioral analytics @LuminetEFM.