Enterprise Mobility Management / BYOD
BlackBerry's MDM Future: Good Move
Mobile Device Management Play Supports Hardware-Free Future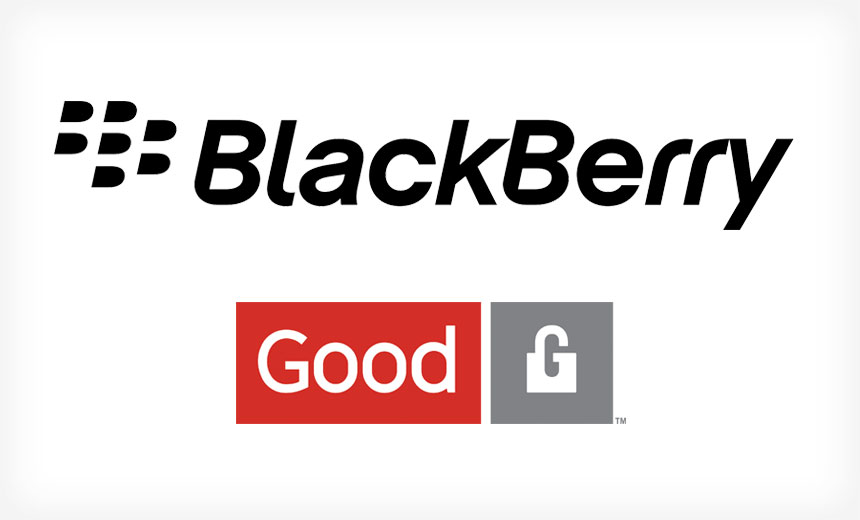 Life can't be easy for BlackBerry, which has seen its fortunes flag ever since Apple and Android rewired our collective notions of what mobile devices could - and should - do.
See Also: Live Webinar | Breaking Down Security Challenges so Your Day Doesn't Start at 3pm
But don't count the Waterloo, Ontario-based company out just yet, as evidenced by BlackBerry's Sept. 4 announcement that it has entered into a definitive agreement to acquire onetime competitor Good Technology, based in Sunnyvale, Calif., for $425 million in cash. The acquisition will bolster BlackBerry's existing mobile development management capabilities, helping to future-proof a company whose handset-manufacturing days look increasingly numbered.
"This is a good move for Blackberry ... adding Good to the mix reinvigorates the brand."
"This is a good move for Blackberry," Rick Holland, principal analyst for security and risk management at Forrester Research, tells me. "Last year BlackBerry opened up an API and started integrating with third-party MDM solutions, which hastened clients' move away from them. BlackBerry already has robust MDM capabilities, and adding Good to the mix reinvigorates the brand."
BlackBerry CEO John Chen has promised to kill the hardware side of the business if he can't bring it back to profitability, meaning he needs a Plan B. And the Good acquisition "is inline with BlackBerry's shift away from telephone hardware to services and software," Holland says. "Given Blackberry's legacy and entrenchment in financial services and military, and government organizations, many clients and former clients want them to be successful."
BlackBerry: Prepping for MDM Future
Chen says that acquiring Good - the deal is expected to close by October 2016 - will allow BlackBerry to expand its enterprise mobile device management capabilities and reach. "Like BlackBerry, Good has a very strong presence in enterprises and governments around the world and, with this transaction, BlackBerry will enhance its sales and distribution capabilities and further grow its enterprise software revenue stream," he said.
BlackBerry and Good have previously clashed in public, airing pointed criticisms of each other's products and claims. But with the new deal - for which both J. P. Morgan Securities and Bank of America Merrill Lynch served as financial advisors to closely-held Good - the two firms appear to have settled their differences.
"We are excited to join BlackBerry, where together we will be the most comprehensive mobile platform in the market," says Christy Wyatt, Good's chairman and CEO (see Enterprise Mobility: Evolving Security). "Good has worked hard to deliver the highest levels of security across operating systems and applications. Our trusted Good solutions will also help BlackBerry to accelerate its Internet of Things platform for managing endpoints beyond mobile devices."
In fact, Good offers a number of mobility-focused products and services, including mobile development management tools - covering Android, Android Wear, Apple Watch, BlackBerry, iOS and Windows Phone - as well as unified monitoring, data loss prevention, secure communications, and a Good Dynamics platform, which provides app-level encryption and containerization.
Going forward, Good's offerings will become part of BlackBerry's own mobile development management tools, which can be used to manage not just BlackBerry 10 devices, but also Android devices, including those that run Samsung Knox, which is designed to offer a more secure, out-of-the-box version of Android for enterprises.
"It is our plan to go to one, unified platform," BlackBerry's Chen said on a Sept 4 conference call.
No More CrackBerry
One of the ironies of this deal, as renowned information security expert Cris Thomas - a.k.a. Space Rogue - has noted via Twitter, is that BlackBerry is buying a company that helps businesses quit using BlackBerry.
So one of the things Good Technology sells is... Blackberry Migration plans. Bwahahaha https://t.co/ixby99t5a6

" Space Rogue (@spacerog) September 4, 2015
But the writing has long been on the wall for the BlackBerry phone, which was once so must-have and immersive as to be dubbed "CrackBerry." Yet as of April, market researcher IDC reported that BlackBerry device shipments comprised just 0.3 percent of the worldwide smartphone market, behind Android at 83 percent, iOS at 14 percent, and Windows Phone at 3 percent.
BlackBerry had been attempting to grab more market share for its handsets by selling low-cost devices in emerging markets; it failed. Cue BlackBerry in July announcing another round of layoffs, without specifying exactly how many jobs it would cut.
The company had counted 7,000 employees as of Sept. 2014, down from a one-time high of 20,000.