Artificial Intelligence & Machine Learning , Cyberwarfare / Nation-State Attacks , Fraud Management & Cybercrime
10 Hot Sessions: Infosecurity Europe in London
Cybersecurity Conference Tackles Cybercrime, AI, Breach Response, Privacy, GDPR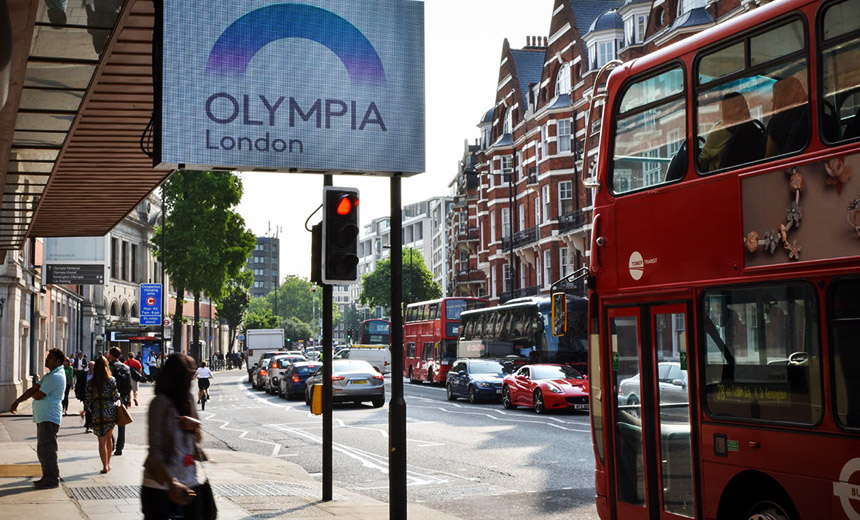 Cybersecurity comes to London again this week in the form of the annual Infosecurity Europe conference.
See Also: Live Webinar | Education Cybersecurity Best Practices: Devices, Ransomware, Budgets and Resources
Running from Tuesday through Thursday, the conference delivers three days of keynote presentations, sessions, training and tchotchkes for an audience drawn from the United Kingdom, mainland Europe and beyond.
Hot topics for this year's conference include nation-state attacks, data breach avoidance, the rise of artificial intelligence and the EU's now-in-force General Data Protection Regulation.
Here is a list of highlights on this year's "Infosec Europe" keynote stage:
10 Hot Sessions
View from the Board: A CEO's Perspective on Cybersecurity (Tuesday, 10:00): Dido Harding, the former CEO of TalkTalk who now heads regulator NHS Improvement, will discuss working with CISOs, breach response and building a better cybersecurity culture, drawing on her time leading London-based telecommunications firm TalkTalk, which suffered a number of serious breaches (see TalkTalk Slammed with Record Fine Over Breach).
Quantum Computing: How Should Cybersecurity Professionals Prepare? (Tuesday, 11:05): Jaya Baloo, CISO of Dutch telecommunications giant KPN Telecom, traces the rise of quantum computing, what it portends for businesses and how CISOs must prepare.
Dystopia or Utopia? Privacy & Cybersecurity in the Digital Age (Wednesday, 10:00): Martha Lane Fox, co-founder of Lastminute.com and a member of the U.K.'s House of Lords - and one of Parliament's scant tech-literate members - will discuss privacy in the age of Cambridge Analytica, Facebook and Google.
Cyber Risks, Threats & Vulnerabilities and How to Defend Against Them (Wednesday, 11:10): The trio of talks, moderated by PwC's Richard Horne, features James Lyne of Sophos; an unnamed "senior representative" from the U.K. National Cyber Security Center - part of GCHQ; and Thomas Tschersich, head of internal security and cyber defense at German consultancy T-Systems.
Artificial Intelligence: Friend or Foe? (Wednesday, 13:30): Mikko Hypponen, chief research officer of F-Secure, promises to dive into the promise and peril of AI, including its use both as a defensive tool as well as how it might bolster hackers' capabilities.
The Modern State of Insecurity (Wednesday, 14:30): Data breach expert Troy Hunt will review the top threats facing organizations and the actionable steps they should be taking to ensure they don't become the next SQL injection, Amazon S3 bucket or - insert your favorite old/new hack here - breach victim.
EU GDPR Is Here - Now What? (Wednesday, 16:30): Cybersecurity expert Brian Honan leads an all-things-GDPR panel with participants from the Information Commissioner's Office - the U.K.'s data protection watchdog - plus Microsoft, Thomson Reuters and Trainline.
Weaponizing the Web: Nation-State Hacking & What It Means for Enterprise Cybersecurity (Thursday, 10:00): From Russians meddling with the 2016 U.S. presidential elections to claims that the government of North Korea was responsible for WannaCry, nation-state hacking appears to be more pervasive than ever. Hannigan says he'll review therisk to organizations and essential mitigation steps.
T-Minus 72 Hours & Counting: Rapid Response to a Cyberattack (Thursday, 12:00): The essential steps all organizations should take in the first 72 hours following a major cybersecurity incident will be outlined by Nick Andrews of FleishmanHillard, Vincent Blake of Pearson, Tamer Gamali of Mashreq Bank and Bridget Treacy of Hunton Andrews Kurth LLP. Moderator Michael Madison of EY will lead the panel, which will share information security, legal, law enforcement and PR advice.
Partners in Fighting Cybercrime: Building Collaboration Between Business, Government & Law Enforcement (Thursday, 13:25): Brian Honan is due to be joined by Scott Smith, the assistant director of the cyber division at the FBI; Ben Russell, who heads cyber intelligence for the National Crime Agency; plus cybersecurity experts Victoria Baines and Paul Midian, who's CISO of Dixons Carphone.
Transplanted: Keynote Stage
Pro tip for attendees: The keynote stage is no longer reachable from the main conference venue, inside the Olympia exhibition hall.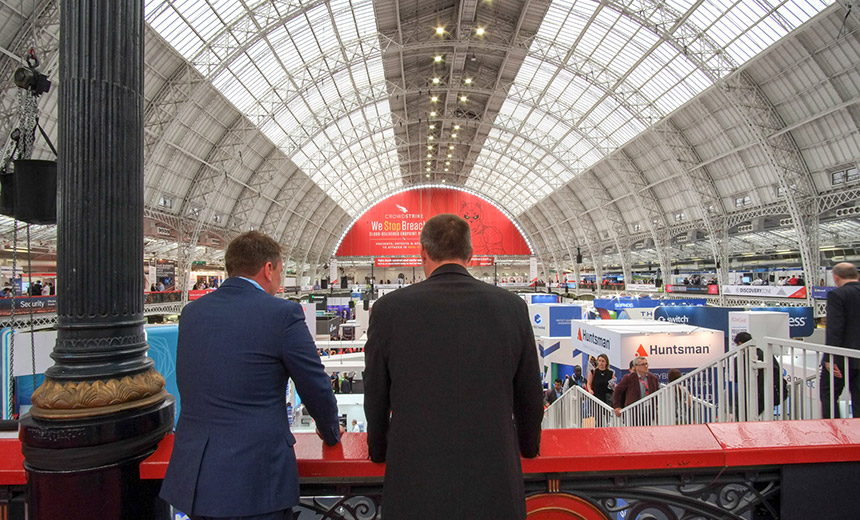 A view of the Olympia London exhibition hall during Infosecurity Europe 2017
This year, the keynote stage is going to move, although organizers say that unfortunately, it won't be directly reachable from the show floor. Instead, attendees will have to exit the building, walk around the corner and then into the Olympia Conference Centre - which despite its name isn't connected to the Olympia exhibition hall - and up to level three.
The move will hopefully be no bad thing. In previous years at the Olympia, the keynote stage has felt shoehorned into the proceedings - like a mid-size tent dropped into the middle of an already chaotic carnival. Long lines for getting into the keynote area were common, as were crowds at overflow areas who watched the proceedings via live video.
Directions to 'Geek Street'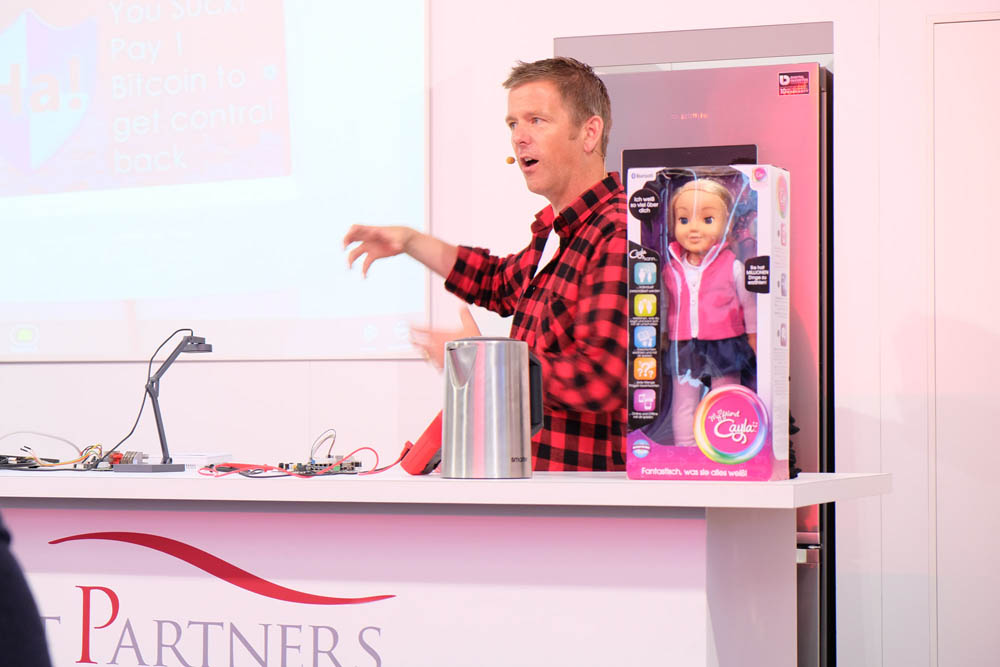 Ken Munro of Pen Test Partners highlights "smart" toy security failures at Infosecurity Europe 2017.
This year, the conference organizers are testing a new "immersive zone" dubbed Geek Street that formalizes the hands-on presentations that have featured annually on the exhibition floor. Participants include the ethical hacker known as Freaky Clown regaling attendees with a sample of physical and information security failures as part of a presentation titled "How I Used to Rob Banks."
Internet of things bug-hunting expert Ken Munro, meanwhile, will be revealing "what adult toys can tell us about the state of IoT" as he demonstrates his latest hardware hacking endeavors (see Don't Hug These Internet-Connected Stuffed Toys).