Standards, Regulations & Compliance
Bitcoin-Amassing AlphaBay Drug Barons Get US Prison Time
'Caliconnect' Earned $1.4 Million on Silk Road Before Its Demise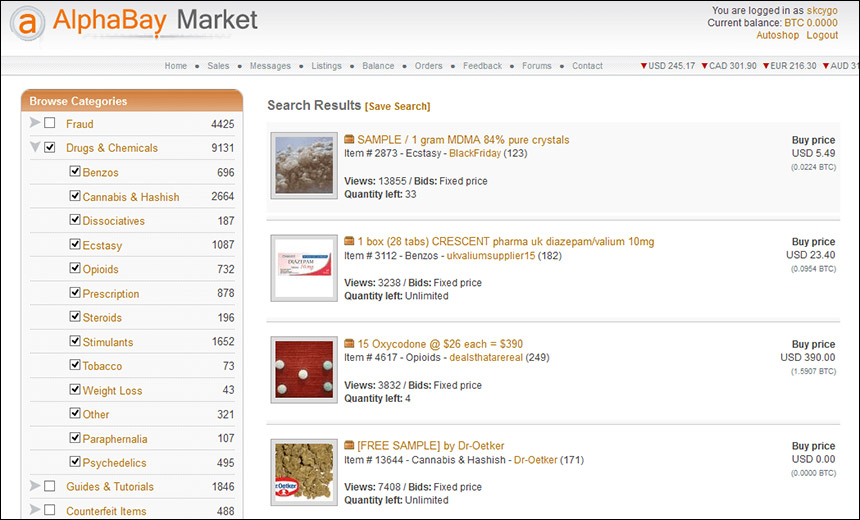 The U.S. Justice Department on Tuesday announced that two men have been sentenced to serve about six years each in federal prison for using AlphaBay and other darknet marketplaces - referring to a website that can only be reached by using the anonymizing Tor browser - to sell drugs.
See Also: Live Webinar | Generative AI: Myths, Realities and Practical Use Cases
Californian David Ryan Burchard, 40, was sentenced by Chief U.S. District Judge Lawrence J. O'Neill to serve 80 months in prison, while Emil Vladimirov Babadjov, 33, who has both Bulgarian and U.S. nationality, was sentenced to serve 70 months in prison.
Burchard used the online handle "Caliconnect," according to court documents. Prosecutors described him as "a major narcotics vendor on the Silk Road and other dark-web marketplaces, including Agora, Abraxas and AlphaBay," saying he fulfilled orders for everything from marijuana to cocaine, then sent the narcotics from California's Merced and Fresno County post offices to U.S. customers.
'Caliconnect' Sold Marijuana
"Burchard conducted sales in excess of $1.4 million on the Silk Road before that marketplace was closed" - when the FBI arrested its founder in October 2013 - "at which point Burchard transferred his narcotics business to Agora and then to AlphaBay," according to court documents. Prosecutors say he was mostly paid in bitcoins.
Burchard was arrested in March 2016. Last August, he pleaded guilty to conspiracy to distribute and to possess with intent to distribute marijuana on dark web marketplaces. He had faced up to 20 years in prison and a $1 million fine.
To begin serving his sentence, Burchard has been ordered to surrender to federal custody on April 12.
'BTH-Overdose' Sold Heroin, Fentanyl
In a separate case, American-Bulgarian Babadjov operated online using the monikers "Blime-Sub" and "BTH-Overdose." Prosecutors said he fulfilled orders for heroin, fentanyl and methamphetamine especially on AlphaBay, sending the drugs from a San Francisco post office to U.S. customers. "On October 20, 2016, law enforcement agents made an undercover purchase of heroin from 'Blime-Sub,' which was delivered to a post office box in the Eastern District of California," the Justice Department says. "The parcel contained a mixture of fentanyl and heroin."
Babadjov, now in custody, was arrested in December 2016 and made his initial court appearance later that month. He faced up to 20 years in prison and a $1 million fine. He pleaded guilty to distributing controlled substances last October.
AlphaBay Vendors
Both Burchard and Babadjov admitted to selling drugs via the AlphaBay darknet market, which operated until July 2017, when the FBI, the EU's law enforcement intelligence agency - Europol - and their law enforcement partners announced the seizure of both the AlphaBay and Hansa darknet marketplaces.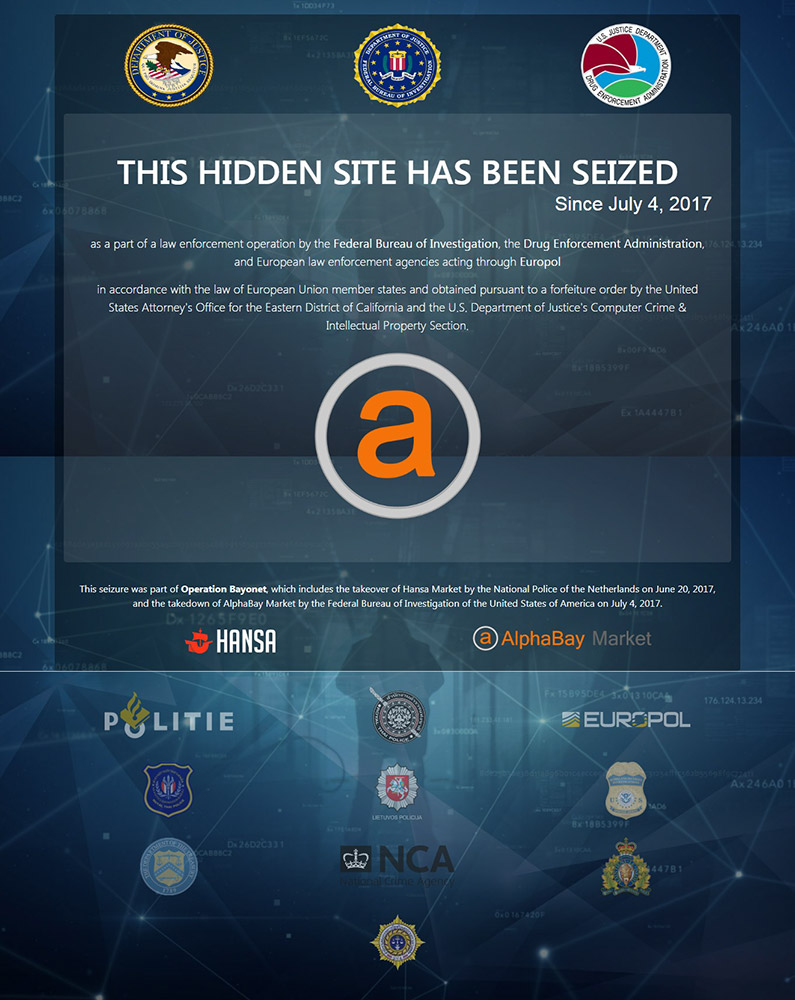 Seizure notice displayed on the AlphaBay darknet site homepage. (Source: Department of Justice)
Before AlphaBay went dark, Dutch police secretly seized control of Hansa on June 20, 2017, which they said processed about 1,000 orders per day, mostly for hard drugs. Police then monitored Hansa for one month, before taking it offline (see Police Seize World's Two Largest Darknet Marketplaces).
On July 4, 2017, however, rival darknet marketplace AlphaBay, which processed more than $1 billion in narcotics sales, went dark. The disruption of AlphaBay - by police, as it turned out - led many users to switch to Hansa, where Dutch police were watching.
"The Dutch police collected valuable information on high-value targets and delivery addresses for a large number of orders," Europol said in a statement at the time. "Some 10,000 foreign addresses of Hansa market buyers were passed on to Europol."
Arrests Predate AlphaBay Seizure
But both Burchard and Babadjov were rounded up before law enforcement agencies successfully disrupted AlphaBay. That's a reminder that using the Tor anonymizing browser and anonymizing cryptocurrency might make some online transactions tougher to trace, but they don't add up to an invincible invisibility shield for all bad behavior.
Police remain cagey on their ability to correlate blockchain transactions - the blockchain is a public ledger of all bitcoin transactions - with other account transfers, including converting cryptocurrency into cash.
But security experts say that intelligence agencies and academics have been enhancing investigators' ability to better correlate such transactions and deanonymize cryptocurrency users as well as Tor users, not only for criminal investigations but also other types of cases, including counterterrorism (see Tougher to Use Bitcoin for Crime?).
OPSEC Fails Puncture Pseudoanonymity
Many arrests tied to darknet markets, however, seem to result simply from poor operational security. AlphaBay's administrator, for example, made a string of opsec errors, including reusing his personal Hotmail email address in the header information for the AlphaBay's welcome email (see One Simple Error Led to AlphaBay Admin's Downfall).
Another case led to the arrest of a suspect who allegedly fulfilled orders on AlphaBay using the moniker "Fentmaster" after he was repeatedly observed wearing "worn latex-dipped gloves" while "depositing a large number of USPS envelopes in collections bins" in front of a New York post office (see Glove Use Key to Arrest of Alleged Darknet Drug Trafficker).