Cryptocurrency Fraud , Cybercrime , Fraud Management & Cybercrime
Banking Committee Chair: Crypto Can 'Endanger Security'
Also: Elizabeth Warren, Colleagues Introduce Bill Targeting Sanctions Evasion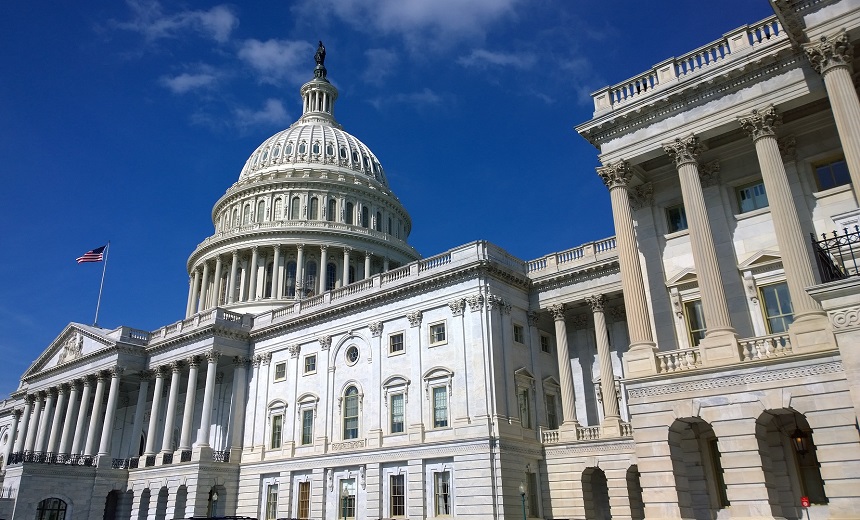 U.S. lawmakers on Thursday again discussed illicit finance with regard to cryptocurrencies - in light of recent warnings that the Russian government may increasingly rely on digital currencies to stabilize its sanctioned economy.
See Also: OnDemand | Understanding Human Behavior: Tackling Retail's ATO & Fraud Prevention Challenge
In a hearing of the Senate Banking, Housing, and Urban Affairs Committee entitled "Understanding the Role of Digital Assets in Illicit Finance," several cryptocurrency experts, including one individual on the front lines of the Russia-Ukraine conflict, briefed the committee on what they called an immense upside of crypto adoption. The experts also discussed some of crypto's more macro risks - including sanctioned entities obfuscating funds and ransomware gangs extorting global organizations for Bitcoin.
Witnesses included Jonathan Levin, co-founder and chief strategy officer for the blockchain analytics firm Chainalysis; Michael Mosier, former acting director, deputy director/digital innovation officer for the Treasury Department's Financial Crimes Enforcement Network, or FinCEN; Michael Chobanian, founder of Ukraine-based KUNA Exchange and president of the Blockchain Association of Ukraine; and Shane Stansbury, Robinson Everett distinguished fellow in the Center for Law, Ethics, and National Security, and senior lecturing fellow at Duke University School of Law.
Endangering National Security?
In his opening remarks, Committee Chairman Sherrod Brown, D-Ohio, noted that "crypto can be used … to commit crimes, facilitate illicit finance, terrorism and other forms of criminal activity, and threaten our national security."
He stated that "bad actors around the world - hackers, scammers, drug traffickers, terrorist groups and [authoritarian] regimes - have sought digital assets to facilitate their crimes and intimidation."
Brown acknowledged that the U.S. dollar has safeguards to protect against such activity, requiring companies to know their customers, report suspicious transactions and keep records. Conversely, when crypto companies are also "covered by the law," he said, "too many don't play by the same rules, especially offshore crypto operators that are not subject to U.S. law."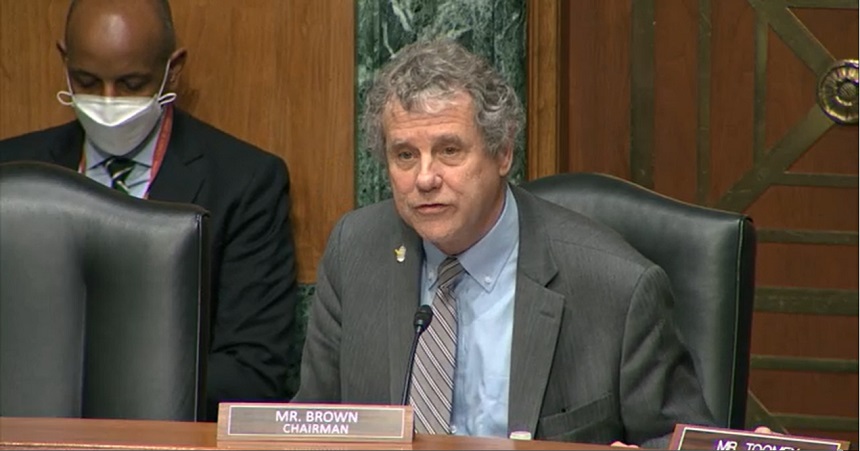 Sen. Sherrod Brown, D-Ohio, speaking on Thursday (Source: Senate Banking Committee)
Brown said "shady crypto companies" that do not adequately monitor their platforms "give criminals a green light" and "make it easier for money launderers to use webs of transactions across the globe to cover their tracks." In turn, the chairman continued, this makes it "harder for law enforcement to trace the illicit funds."
"We can't sit on the sidelines," Brown said. "We need to take a clear-eyed look at how these assets can endanger consumers and our security. … We need to take a whole-of-government approach."
Stifling Innovation?
The committee's ranking member, Pat Toomey, R-Pa., took a different tack in his remarks - praising the visibility and transparency of the blockchain that underpins cryptos and saying the assets can fuel American financial innovation.
"The technology has enormous potential benefits, some of which are already being realized," said Toomey. "The White House itself recently stated the U.S. must maintain its leadership in the space, which is why lawmakers and regulators should do nothing to harm America's long-standing tradition of fostering technological innovation."
The senator next brought up the worrisome case of Moscow's potential sanctions evasion in the wake of Russia's invasion of Ukraine and the West's economic punishments.
"Now, there's no sanctions regime that's completely watertight. So, it's possible that there's an oligarch somewhere who may be using a variety of tools, including crypto, to try to hide some assets," said Toomey. "But according to administration officials across multiple agencies, there's simply no evidence of cryptocurrencies being used by Russia to evade sanctions in any significant way."
On the other hand, Toomey added, Ukraine has actively used cryptocurrencies to "do tremendous good," with donations to its military that are "helping Ukrainians defend their country." The crypto assets, Toomey continued, have funded some 5,500 bulletproof vests, 500 helmets and more than 410,000 meals.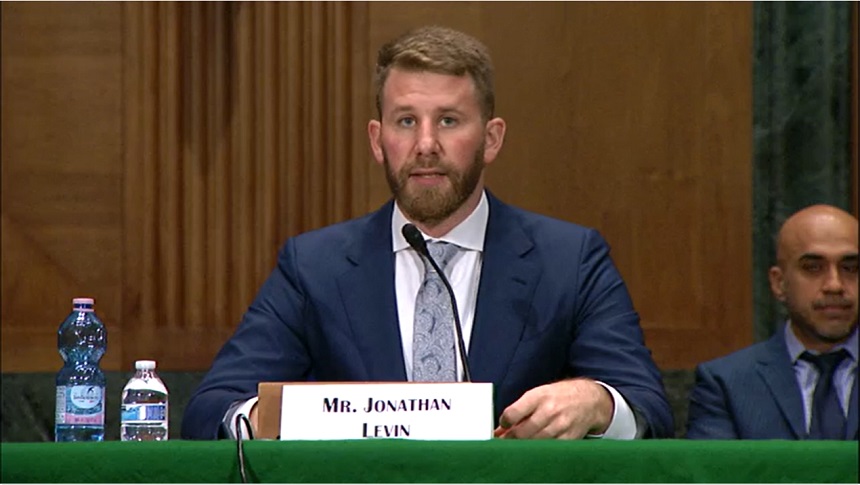 Chainalysis co-founder and chief strategy officer Jonathan Levin (Source: Senate Banking Committee)
Enhancing Security
In his testimony, Chainalysis' Levin said his firm's software has helped take down "the largest darknet markets, prevented the use of cryptocurrency for terrorist financing, prevented scams and investigated ransomware campaigns."
Levin again maintained that the software enables anti-money laundering compliance for the digital asset industry under obligations from the Bank Secrecy Act, a decades-old law requiring financial institutions in the U.S. to assist government agencies in detecting and preventing money laundering.
Levin added, "The blockchain's transparency and the permanence of the records that are contained with this allow us to root out illicit activity. Law enforcement leverages the permanence of these records and its openness to take proactive steps in being able to investigate crimes."
The Chainalysis executive called for the building of "new rails," saying that it "encourages transparency" and "protects - and enhances - our national security and public safety."
'Work to Be Done for Web3'
Taking the pro-crypto line as well, Mosier, the former FinCEN official, told lawmakers that "over-attributing cybercrime to cryptocurrency misses critical causes and preventive measures that can be taken."
"Certainly there's work to be done yet for Web3 [an iteration of the internet incorporating blockchain technology] to be safely accessible. But the early internet had a lot of fraud and exploits as well. Instead of shutting [it] down, we worked persistently to find the balance while prioritizing risks and pathways to consensus and clarity," he said.
Mosier advised lawmakers to "focus on regulatory arbitrage" - the practice of seeking cost savings or capturing other opportunities via different jurisdictions - before "venturing into new rules." Mosier said "diligent U.S. exchanges" should be assisted before stringent regulation is handed down.
Commentary from Ukraine
Briefing the committee from an undisclosed location in Ukraine, KUNA Exchange's Chobanian provided an anecdote to highlight crypto's benefits.
In fleeing eastern Ukraine with his family on Feb. 24, Chobanian said, he had "decided to set up a fund in order to help my people, my army."
Just hours after establishing the fund, Chobanian said, he was contacted by, and aided by, high-ranking Ukrainian officials in an effort to centralize it.
"Now it's being run by both the Ministry of Digital Transformation and by the Ministry of Defense," he told U.S. lawmakers. "Right now, we've already collected more than $50 million, and we are reaching for about $100 million."
He said the fund - run on KUNA - is "fully compliant with the current laws and regulations in Ukraine." Chobanian said one of the first orders of business is shutting down all the ruble operations on the platform.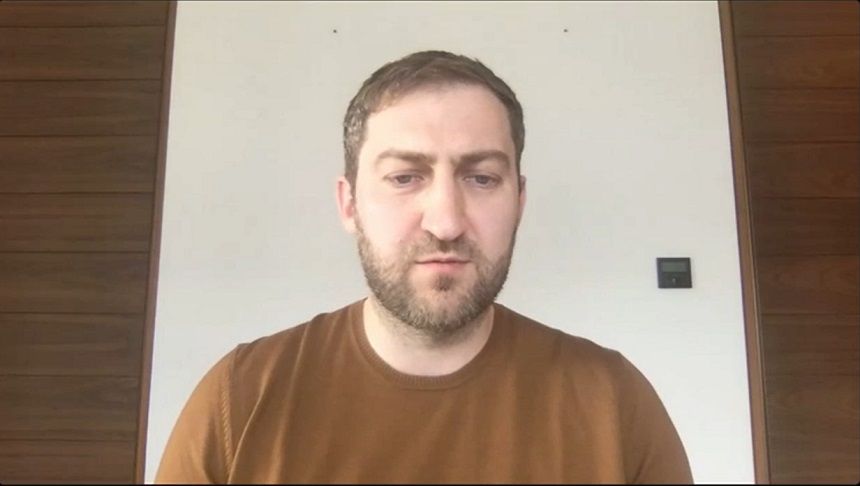 Michael Chobanian, founder of KUNA Exchange, president of Blockchain Association of Ukraine (Source: Senate Banking Committee)
He also said he remains confident that the Russians cannot use crypto to avoid sanctions.
"It's physically impossible to transfer large amounts of money from fiat into crypto," Chobanian said. "And again, even if they do, which is impossible, there is nothing they can do with it [to off-ramp]."
He also warned U.S. and allied countries not to sanction the Russians so heavily as to "kill the opposition [coming from] within Russia," which would "help us bring down the regime."
New Sanctions-Focused Bill
In her line of questioning, Sen. Elizabeth Warren, D-Mass, critiqued Levin, of Chainalysis, on the numerous existing means for bad actors to obfuscate funds on the blockchain and effectively launder ill-gotten gains.
Warren also argued that while Russia may not be able to "evade all sanctions by moving its assets into crypto," the assets are a workable option for Putin's oligarchs trying to "hide a few billion dollars."
She then announced the introduction of related legislation - the Digital Asset Sanctions Compliance Enhancement Act.
The bill would discourage foreign crypto firms from doing business with sanctioned Russian elites, providing the Biden administration with authority to suspend transactions with Russia-linked crypto addresses.
The bill would also require U.S. taxpayers engaging with offshore transactions greater than $10,000 to file a FinCEN Form 114.