Bank Failures: 2010 Pace Exceeds 2009
FL, IL Are States With Most Failed Banks, Credit Unions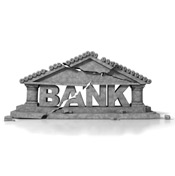 There were no bank failures to kick off the 4th of July weekend - but this past Friday was the exception, not the rule.

In fact, midway through 2010, we already have seen more than twice the number of failed banks and credit unions as we saw at this same point in 2009.

There have been 96 failures - 86 banks and 10 credit unions - so far in 2010. At the end of June 2009, there were 45 failures en route to a total of 171 failed institutions for the year.

With institutions continuing to feel the effects of the 2008 economic meltdown, experts say we may well see significantly more bank failures before year's end.

"I had hoped that a pick-up in economic activity would limit failures, but I see no real light at the end of the tunnel now," says former FDIC executive Christie Sciacca. He says he won't be surprised to see 200 bank failures in 2010.
Trouble Spots
Of the 86 banks to fail so far in 2010, the largest is Westernbank Puerto Rico, which closed in April and had approximately $11.94 billion in total assets.

Of 10 credit unions to be closed, acquired or placed into conservatorship, the largest is Arrowhead Central Credit Union of San Bernardino, CA. This full service credit union was placed into conservatorship in June, with assets of $876 million.

Taking a quick look at the numbers, Florida leads the nation with 14 failures so far in 2010. Next on the list are: 12 failures in Illinois, nine in Georgia and California, seven in Washington State, and six in Minnesota.

Meanwhile, with slightly fewer than 800 financial institutions now on the Federal Deposit Insurance Corporation's "troubled banks" list - up from 90 in 2008 - the likelihood of further bank closings is very real.

Behind the numbers, industry experts tie the ongoing failures to forces that include the commercial real estate market stresses caused by foreclosures. "There are Miami banks that were highly rated that have now slipped significantly because of commercial real estate holdings," says Walter Mix, former commissioner of the California Department of Financial Institutions. As the 2008 recession continues to impact consumers and businesses, commercial real estate, housing values and high unemployment will be factors in how well banks handle the stresses of increased foreclosure numbers both in commercial and home mortgages.

Joseph Lynyak, a lawyer at Venable LLC, says the banking industry is still in the middle of the bank failure cycle, rather than near the end. "The long-term number of banks may ultimately be 300 to 400 banks until the economy stabilizes," Lynyak says.

Offering historic perspective, though, is William Isaac, who chaired the FDIC in the early 1980s, just prior to the savings and loan crisis that led to the failure of more than 1,000 institutions. Today's numbers are heavy, Isaac says, "[But] they do not come close to comparing to the levels we witnessed in the 1980s."

See: Our interactive map of the year's failed banks and credit unions.