Bank Creates Anti-Skimming Device
Blocker Protects Card Reader; to Be Licensed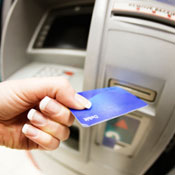 M&T Bank Corp. has come up with a low-tech solution for an increasingly high-volume problem - ATM skimming.

The Buffalo, N.Y.-based bank just announced the release of its Blocker ATM device, a proprietary, patent-pending anti-skimming solution the $69 billion bank has already installed on 400 of its 2,000 ATMs.

The Blocker is a protective device that relies on coated steel plates placed around an ATM's card reader, ultimately preventing criminals from attaching artificial readers over an ATM's fascia. It's now being used on M&T ATMs in Maryland, New York, Pennsylvania and Virginia, with plans for future rollouts.

"It's a very simple design that does not interfere with any technology," software or hardware, says Carolyn Criscitiello, a vice president in M&T's Alternative Banking and Retail Services division. "It physically blocks someone from putting a bezel [a rim that forms a protective covering] over a card-reader and acts as a shield."

Around $350,000 U.S. dollars is lost daily throughout the world to incidents of ATM skimming, says ID theft expert Robert Siciliano. "Definitely, worldwide, more money is taken from ATMs," he says. "We're seeing more and more all-in-one systems, like skimmers with the pinhole camera all built into one. And we're seeing some systems with the keypad overlay built in. It's just getting easier and easier to do."

The ATM does not need to be taken offline for installation. "It just stops criminals from making a mold of whatever bezel is out there," Criscitiello says.

Criscitiello did not say how grave a concern ATM skimming has become for M&T. But she did say the bank was looking for an easy-to-deploy, quick-to-market solution that could thwart today's common skimming attacks.

M&T began development of the Blocker in July. Deployment of the solution began in September.

The design of the Blocker is key. It fits numerous makes and models of ATMs, primarily those manufactured by Diebold Inc. and NCR Corp., which make up M&T's ATM network.

The solution also had to be versatile, so that it could be installed on ATMs used within the branch and beyond. Though most skimming attacks are waged against on-premises ATMs - typically walk-up and drive-up ATMs located at the branch - M&T needed a solution that could be installed on off-premises terminals as well, which account for about a fourth of M&T's fleet.

"The benefits are that is that it was a very cost-effective solution that we could put in the market for a mix of ATMs makes and models. There is nothing else like it in the market today," Criscitiello says.

M&T plans to license the technology to other banks and independent ATM suppliers as well. "We're all trying to stop fraud," she says. "That's a common goal among everyone. ATM skimming is the biggest threat, where card fraud and ATM fraud are concerned."