Endpoint Security , Identity & Access Management , Security Operations
Aura Lays Off 70 Staff After Raising $350M Over Past Year
Company Says Layoffs Are the Result of Customer Acquisition Strategy Changes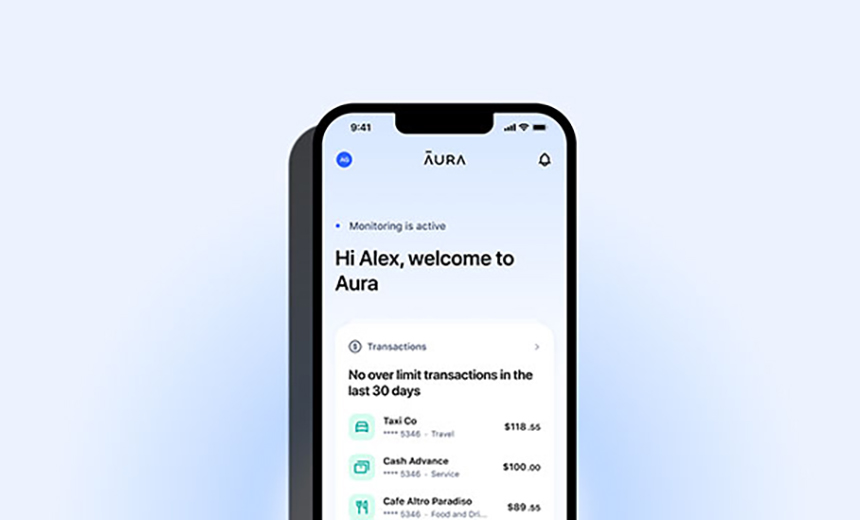 High-flying cybersecurity startup Aura has laid off 70 employees as a result of customer acquisition strategy changes just a year after raising $350 million.
See Also: Live Webinar | Cutting Through the Hype: What Software Companies Really Need from ASPM
The Boston-based digital protection vendor says the layoffs came about as a result of an agreement inked with MetLife earlier this year that made the insurance and annuities giant Aura's exclusive go-to-market partner for the employee benefits channel, an Aura spokesperson tells Information Security Media Group (see: OneTrust Lays Off 950 Due To 'Capital Markets Sentiment').
"In executing this partnership, we conducted a complete review of our customer acquisition strategies so that we could fully optimize the efforts between Aura and MetLife, as well as within our direct-to-consumer and partnership channels," the Aura spokesperson tells ISMG. "As a result of this realignment, we made the difficult decision to let go about 70 employees worldwide."
News of layoffs at Aura was first reported Thursday by the Boston Business Journal, which says the company is left with 750 employees globally following the job cuts. That means the layoffs affected more than 9% of Aura's workforce. The Boston Business Journal reported that Aura's employer channel business is growth rapidly and represents a significant expansion opportunity for the firm going forward.
Aura did not respond to ISMG's questions about which departments, roles or geographies were most heavily affected by the layoffs. Roughly 10% of Aura's employees are based in New England, according to the Boston Business Journal.
A Quick Reversal of Fortune
Just eight months ago, Aura closed a $200 million Series F round on a $2.5 billion valuation that was led by Madrone Capital Partners, a private equity firm associated with the son of Walmart founder Sam Walton. Four months before that, Aura hit the $1 billion market capitalization threshold after closing a $150 million Series E round led by private equity giant Warburg Pincus.
Aura in November snagged longtime RSA Chief Technology Officer Zulfikar Ramzan to serve as chief scientist and CEO of Aura Labs, where he's tasked with furthering the company's development of a platform that enables predictive, personalized and autonomous digital safety for consumers.
"Aura remains fully committed to making the internet a safer place for consumers and is focused on continuously strengthening our operational core to promote customer growth," the Aura spokesperson tells ISMG.
A year ago, Aura got major celebrity backing when former DreamWorks Animation CEO Jeffrey Katzenberg joined the company's board of directors. Katzenberg is co-founder and managing partner of technology investment firm WndrCo, which led a $150 million round for Aura in July 2019. Aura was formed through the January 2019 combination of consumer security firms iSubscribed and Intersections.
"The macro economy is certainly concerning. I would say we have turned cautious as opposed to pessimistic," Katzenberg told CRN in April. "But the interesting thing is that security is something that tends to be strong, no matter what the economy. And you can look at many aspects around the macro trends of security, [and] they actually improve in difficult financial [times]. I don't think this will be any different."
Layoffs Loom Large in the Security Space
Aura is the sixth security startup to publicly disclose layoffs in the past month. Last week, endpoint and patch management startup Automox confirmed layoffs via LinkedIn. Exact job cuts weren't disclosed, though Layoffs Tracker reported the company had reduced its workforce by about 18%, or 75 employees.
"Due to the broader economic climate, we parted ways with a number of our very talented people," Automox wrote on LinkedIn last week. "While Automox continues to be a growing business in a strong financial position, we are not immune to the challenges of the macroeconomic environment."
A week earlier, privacy and data governance vendor OneTrust laid off 25% of its staff - or 950 workers - due to the markets wanting to see a more balanced approach between growth and profitability, CEO Kabir Barday wrote in a blog post. This is the second time OneTrust has laid off employees in the past three years, as the firm cut 10% to 15% of its roughly 1,500-person staff in April 2020 due to COVID.
"It is one of the most difficult decisions I've had to make as a leader," Barday wrote in the June 9 blog post. "My responsibility is to ensure OneTrust thrives and is positioned for sustained growth, and unfortunately, reducing our headcount and adapting to capital markets sentiment is what is needed to keep us in our leadership position."
That same week, deep learning startup Deep Instinct cut 10% of its salespeople, Crunchbase and CNBC reported the week of June 6. That's despite growth of more than 200% in annual recurring revenue in 2021, a rate of expansion that continued into the first quarter of this year. Lane Bess, chairman of Deep Instinct, told CNBC at RSA Conference 2022 the company had to get more efficient with its sales operation.
"We took a look and said: Where are we being most effective in the enterprise?" Bess told CNBC. "Are we doing well in the low end of the market, where we have inside salespeople? No. Do we have channel partners that can get to that low end of the market? Yes."
At the start of June, Cybereason laid off 10% of its employees in response to deteriorating market conditions less than a year after raising $325 million. Like OneTrust, endpoint security vendor Cybereason has been backed by Japanese conglomerate SoftBank, which led Cybereason's financing rounds in 2015, 2017 and 2019.
"This was an extremely difficult decision," a Cybereason spokesperson told ISMG in an email. "As the bullish tech market conditions have turned and the tech IPO market has essentially closed, companies like us must now exercise more strict financial discipline and prioritize profitability over top-line growth."
Lacework, meanwhile, announced on May 25 that it had laid off 20% of its employees to strengthen its balance sheet. The layoffs came only six months after the San Jose, California-based cloud security vendor had raised $1.3 billion on an $8.3 billion valuation. Like OneTrust and Cybereason, Lacework had been expected to go public this year before the macroeconomic storm clouds made that a non-starter.
"We have adjusted our plan to increase our cash runway through to profitability and significantly strengthened our balance sheet so we can be more opportunistic around investment opportunities and weather uncertainty in the macro environment," Lacework co-CEOs David Hatfield and Jay Parikh wrote in an email to employees.