ATM Fraud: New Skimming Scheme Spreads
MD, IL, GA Banks, Customers Targeted by Fraudsters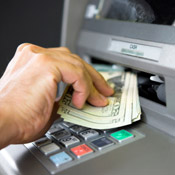 Three ATM skimming operations in Maryland, Illinois and Georgia have netted thieves more than $120,000, according to law enforcement agencies investigating the crimes. These discoveries follow several recent incidents of ATM skimming in other states.

Maryland State Police report that an ATM skimmer was placed on a Bank of America ATM in Eldersburg, MD, and that possibly $30,000 was taken last week. Police have removed the skimmer, but say there could be more. State police have reported other incidents at various other banks in Northern Virginia and Maryland. Two men reportedly were photographed installing the skimming device, which collected card information from customers. The men then come back, removed the device, made counterfeit ATM cards with their stolen information and withdrew money.

In Illinois, thieves used a Bank of America ATM to steal $20,000. Police report the criminals installed a skimming device on a drive-up ATM in Mt. Prospect. The skimmer reportedly was used on Oct. 11, 12, 24, and 25, as well as Nov. 26-29 to steal $20,192 from 316 debit card accounts. The criminals removed the skimmer before employees could find it. Several bank customers complained Monday, Nov. 30, about unauthorized withdrawals.

That report came a week after a similar ploy in Buffalo Grove, where more than $70,000 was taken from an ATM at a Chase Bank branch. Chase Bank officials told police that security video recorded two suspects placing a camera and recording device on the ATM inside the lobby of the bank on November 14. The two then returned on Nov. 16 and used account information that was recorded to withdraw funds from multiple accounts.

The Savannah-Chatham, GA. Metro Police report they were tipped off to two skimming incidents.

Detective Ray Woodberry of the Savannah-Chatham Metro Police says they have seen three reports of skimming over the past few months, including the most recent one at a Bank of America ATM on Victory Drive in Savannah.

Woodberry reports an ATM technician discovered the skimming devices at the Bank of America and reported it to police. There is no word yet how many customers may have been victimized by thieves.