7 Key Points of Obama's Regulatory Reform
Plan Would Eliminate OTS, Add New Consumer Financial Protection Agency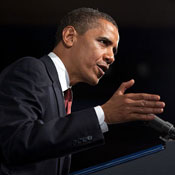 President Barack Obama on Wednesday outlined his historic proposal for changing how the U.S. financial services industry is regulated.

Heralding Obama's announcement, the Treasury department released a comprehensive white paper, "Financial Regulatory Reform: A New Foundation", that now is being presented to Congress. The plan is the biggest shake-up of the U.S. financial system regulation since the 1930s, when the Federal Deposit Insurance Corporation (FDIC) and Securities and Exchange Commission (SEC) were formed.

Speaking before press at the White House, Obama noted that the financial crisis that occurred last fall was the result of not one, but many missed opportunities to create change through regulatory action, and was the result of a "cascade of mistakes made over decades."

The far-reaching effort would reorder the roles of some key agencies to try to tighten government supervision of the financial sector. Among the proposals:

1. Merge OTS and OCC
Obama's plan includes a proposal to merge the Office of Thrift Supervision (OTS) with the Office of the Comptroller of the Currency (OCC). The OTS has been under scrutiny since it was the regulator of American International Group (AIG) and failed lenders IndyMac and Washington Mutual. The comptroller's office is a Treasury Department bureau that regulates national banks. The plan also would expand the role of the Treasury Department.

2. Creation of Financial Services Oversight Council
Obama called for the creation of a council of regulators, Financial Services Oversight Council, chaired by the Treasury secretary to work alongside the Federal Reserve to monitor system-wide risk.

3. Regulation, Oversight Strengthened
The reform package strengthens oversight and fill gaps in regulation. One regulator, the Federal Reserve, would become responsible for monitoring risks across various industries, with the new oversight panel looking over its shoulder. Banks would be required to hold more capital to bulk up their assets and increase soundness. The standards would be highest for the biggest and most complex firms. The compensation at banks blamed for increasing the risk taking by executives looking for quick money is now under regulator oversight.

4. Derivatives Regulated
Regulators would also oversee complex derivatives. These products fueled a feeding frenzy of risky mortgage lending. Derivatives would be subject to new regulation and disclosure. Firms issuing these types of products, including packages of mortgages and other loans, will have to retain a stake in them.

5. Resolution Authority
Obama's plan gives regulators new "resolution authority" to take over large and interconnected firms when they get into trouble, as was the case in Lehman Brothers. This gives the government a framework for restructuring such firms, rather than facing the decision between a taxpayer bailout (what happened to insurer AIG) and the cataclysmic collapse of a major firm such as Lehman Brothers.

6. New Watchdog: Consumer Financial Protection Agency
Obama proposed to establish a new watchdog agency, the Consumer Financial Protection Agency (CFPA), to protect consumers from deceptive or dangerous mortgages, credit cards and other financial products. The new consumer agency would take on some powers that currently reside with other regulators such as the Federal Reserve. It would also have the power to make rules, enact and enforce them at banking and "nonbanking" firms.

This agency would regulate and enforce consumer safety in financial products, although the SEC would retain oversight over investment products. The new agency would become a strong enforcer for mortgage lending, credit cards, and other banking products that have had weak or patchwork rules. The Federal Trade Commission (FTC) would also have strengthened powers to act on behalf of consumers in other areas.

7. Tighter Global Standards
The final proposed change would be increased emphasis to work with other nations for tighter and more coordinated global standards for firms that operate across borders. This ensures that shaky financial products won't spread around the globe from a weakly-regulated country or region. The changes are also seen as a reinforcement of the promises made by G-8 leaders at their meeting held earlier in June.

These sweeping proposals will have to be approved by Congress, and representatives from both political parties have already expressed their own proposed changes to the financial regulatory structure.