Arrested UK Teen Tied to Hacker Groups
Suspect Charged with Breach Claimed by LulzSec in a Tweet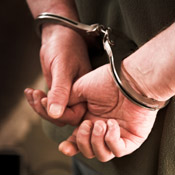 Charges brought Wednesday by London police against a 19-year-old British man tie him to a recent intrusion claimed by the hacking group LulzSec.

London's Metropolitan Police Service's Police Central e-Crime Unit issued a statement outlining the charges against Ryan Cleary, including a distributed denial of service attack on Monday against the website of the Serious Organized Crime Agency, a British law enforcement agency. On Twitter Monday, LulzSec posted: "Tango down - soca.gov.uk - in the name of #AntiSec."

Police also charged Cleary with distributed denial of service attacks last fall against two music industry trade groups, the Federation of the Phonographic Industry and British Phonographic Industry. Published reports at the time say the hacker group Anonymous claimed it attacked those sites. Distributed denial of service attacks flood websites with massive amounts of data, forcing them to shut down.

Authorities also allege Cleary conspired with others to create a botnet, a collection of commandeered computers used to attack other computers.

British authorities announced Monday they arrested Cleary for hacking a number of international business and intelligence agency websites (see UK Police Nab Teen for Hacking International Sites).

When Cleary was arrested, the Internet was abuzz with speculation that the suspect might have ties to Lulz Security, or LulzSec, the hacking group that has taken credit for breaching the Senate and CIA websites as well as Sony, the entertainment company that offers the PlayStation online gaming service (see LulzSec: Senate, Sony Hackers Profiled). At the time of Cleary's arrest, LulzSec denied the suspect was a member. But on Tuesday, LulzSec posted on Twitter: "Clearly the UK police are so desperate to catch us that they've gone and arrested someone who is, at best, mildly associated with us. Lame."