$1 Million ATM Fraud Scam Busted
New York Task Force Arrests, Charges Five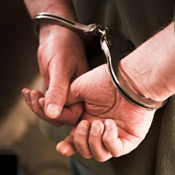 Another ATM skimming take-down has occurred, this time in Westchester County, N.Y., where a special task force has arrested five people for their alleged connection to a $1 million fraud scheme.

The multiagency ATM Skimming Task Force, which includes officers from the Westchester County Department of Public Safety, the U.S. Secret Service and nine local police departments in Westchester, made the arrests after New York residents reported fraudulent transactions linked to skimmed card details.

"Thieves using an ATM skimmer and pinhole camera obtained the full information from 350 customers on a recent Sunday at a single bank ATM. They later withdrew $1,000 from each victim's account - resulting in $350,000 in losses on a single day," Public Safety Commissioner George N. Longworth said in a statement about the arrests.

Richard Merca, 19, of Palatine, Ill.; Victor Vdila, 21, Istvan Casplar, 29, and Florinel Gavat, 40, all of Astoria, Queens; and Ionut Vasilas, 23, of Chicago each face felony charges for criminal possession of forgery devices.

Earlier, authorities in New York announced the arrest of two Bulgarian nationals who had been linked to a similar skimming scheme at Chase ATMs in Manhattan. [See Skimmers Busted by Fraud Detection.]
Proverbial Drop in the Bucket?
The Westchester arrests are a win for law enforcement.
See Also: Live Discussion | Securing Business Growth: The Road to 24/7 Threat Detection and Response
But McAfee consultant Robert Siciliano says banks continue to miss a lot of fraud, and keeping up with ATM skimming trends has become overwhelming.
"It's the banks' clients watching their accounts in this down economy that brings attention to the loss," he says. "Greedy criminals used to be able to skim the same ATM for weeks, now they will have to start moving them around more often or invest more money in SMS-based skimmers."
The explosion of ATM skimming is a problem that needs more attention. Skimming expert and consultant Jerry Silva says attention from the federal government is what consumers should be demanding. "This, too, will reach a boiling point where Capitol Hill will have to take attention away from the larger economic issues and spend their time drafting legislation to force the industry to take action," he says.
Financial institutions will then be faced with more regulation.
"It's a numbers game that the industry as a whole is treating from a bean-counter standpoint," Silva says. "As long as the losses don't exceed the cost to take action, there will be no action to fix the situation."
It's the primary reason no industry-wide strides have yet been made to implement chip and PIN or EMV technology in the United States, he says.
"Given that the solution falls into an 80/20 rule, where a relatively small investment can prevent the majority of this fraud, it's a shame more institutions haven't made the ATM any safer," Silva says.