Events , RSA Conference 2015 , RSA Conference 2015 Featured
Why We Need an ID Ecosystem Framework
Draft of Model Under Review, to be Released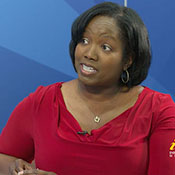 The new Identity Ecosystem Framework is ready for review. What do security professionals need to know? Kimberly Little Sutherland of LexisNexis Risk Solutions shares insights on the future of online identity.
See Also: 2017 Predictions on Data Security: Insights on Important Trends in Security for the Banking Industry
In an interview recorded at RSA Conference 2015, Sutherland discusses:
What the ID Ecosystem Framework is;
When the final version will be published;
How organizations will benefit.
Sutherland is responsible for identifying and guiding LexisNexis' solution response to the constantly evolving market needs for identity proofing and authentication in commercial and government organizations.
She also serves as the plenary chair of the Identity Ecosystem Steering Group, the national organization formed by the White House's National Strategy for Trusted Identities in Cyberspace to administer the development and adoption of the Identity Ecosystem Framework.