A Surge of Patent Infringement Lawsuits
Transaction Tech Used by 51 Companies at Center of Suits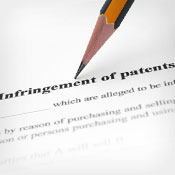 Some 51 patent infringement suits filed Oct. 22 by Long Corner Security, a Texas patent holding company, against payment card networks, payment processors and e-commerce sites are further proof that legal disputes over payments-related technology are on the rise.
See Also: More Threat Vectors, More Security & Compliance Challenges
Banking institutions must stay informed about emerging litigation because they often rely on technology that is alleged to be patented, says Doug Johnson, who oversees enterprise risk and cybersecurity for the American Bankers Association.
Related Content
"Banks should continue to follow what types of cases are being filed, whether they relate to a technology they are currently using or evaluating," he says. And if a patent for technology that a banking institution uses is being disputed, then the institution should prepare a response, Johnson adds.
Meanwhile, federal legislation has been introduced that aims to curb patent-holding companies' ability to file these types of technology suits against banking institutions and small businesses.
The Innovation Act of 2013, introduced by Congressman Bob Goodlatte [R-Va.] on Oct. 23, would hold patent holding companies liable for filing frivolous suits over patents. The ABA is supporting the measure.
Patent Disputes on the Rise
Infringement suits filed by patent-holding companies, also known as patent trolls, are garnering attention from federal and state authorities because of the companies' alleged unfair business practices. Patent-holding companies often acquire patents from other companies and then attempt to enforce those patents by seeking legal damages for infringement.
Most recently, one of the world's largest patent-holding companies, Intellectual Ventures, made waves when it filed numerous infringement claims against leading U.S. banking institutions (see Patent Lawsuits Target Eight Banks and 5 More Banks Sued for Patent Infringement).
All of those lawsuits allege infringement of patents for technologies and services that are core to banking institutions' operations, says James Denaro, a Washington based patent attorney with the CipherLaw Group.
"You've got a broad range of institutional patent companies out there, and when and combine that with the increasing value of the technology, I think you can fully expect to see a lot more of these types of suits," Denaro says. "I don't think there is much the financial industry can do, other than be aware of the risk and plan for and budget for these types of cases."
The attorney also says that if the Innovation Act, pending in Congress, shows promise of being passed, "I could foresee a mad rush to the courthouse" by patent companies to file cases before the restrictions are enacted.
Infringement Claims
Among the companies that Long Corner Security sued in the District Court for the Eastern District of Texas are Discover Financial Services, ACI Worldwide, Chase Paymentech, American Express, MasterCard Inc., Elavon, Heartland Payment Systems, PayPal and Groupon.
All of the suits claim infringement of the same patent, known as the "642 Patent, Method and Apparatus for Secure Storage of Data," Denaro says.
"In one suit, they allege the tokenization feature from AmEx is infringing the patent," he says. "For Groupon, they just allege the secure storage of data infringes the patent."
Long Corner Security is ultimately alleging patent infringement based on every type of e-commerce and payment transaction, Denaro says.
In its suit against Discover, for example, Long Corner Security claims the patent covers anything related to the manufacture, import, sale or offering of secure storage of data. The company also claims its patent includes the sale of secure data storage systems and methods.
"This patent that's being asserted is exceptionally vague and ambiguous," Denaro says. "Basically, this does not look like a very strong patent, let's put it that way. And the concern is that a lot of these computer-type patents don't use terms that have a clear definition."
Latest Tweets and Mentions