Events , RSA Conference 2015 , RSA Conference 2015 Videos
The State of Cybersecurity Staffing
ISACA President Robert Stroud on New Programs to Train Pros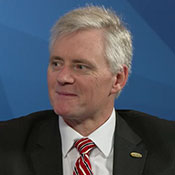 Organizations are at greater security risk than ever, but they also continue to struggle to obtain adequate security staff. Robert Stroud of ISACA offers new recommendations to address the staffing shortage.
See Also: 2017 Predictions on Data Security: Insights on Important Trends in Security for the Banking Industry
In an interview recorded at RSA Conference 2015, Stroud discusses:
Highlights of ISACA's 2015 State of Cybersecurity research;
Why organizations have fallen short in recruiting adequate staff;
ISACA's new Cybersecurity Nexus initiative.
Stroud is international president of ISACA, an independent, nonprofit, global association that engages in the development, adoption and use of globally accepted, industry-leading knowledge and practices for information systems. A past international vice president of ISACA, he serves on its framework committee. Stroud also is a governance evangelist as well as vice president of strategy, innovation and service management at CA Technologies.