Events , RSA Conference 2015 , RSA Conference 2015 Videos
Security: Getting from No to Know
Amit Chatterjee of CA Technologies on Rethinking Security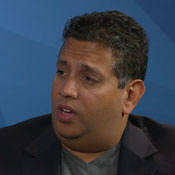 Security is often seen as 'the department of no,' and that image must change. Amit Chatterjee of CA Technologies prescribes a new approach to enterprise security and how security leaders can step up to it.
See Also: Balancing Fraud Detection & the Consumer Banking Experience
In an interview recorded at RSA Conference 2015, where Chatterjee was a keynote speaker, he discusses:
His vision of the new approach;
How to get from No to Know;
How security leaders can embrace today's disruptive IT trends.
Chatterjee joined CA Technologies as Executive Vice President, Enterprise Solutions and Technology Group in May 2014. He is responsible for strategy and execution across the full portfolio of enterprise businesses, from development to commercialization. His mandate is to drive growth in the DevOps, Management Cloud and Security portfolios by fueling competitive innovation and relentless execution, and building and bringing to market differentiated solutions and strengthening the overall CA portfolio to serve customers worldwide. Chatterjee is an innovator, business builder and executive who has founded, built and matured a number of successful start-ups in high growth markets, including one from bootstrap to public company. Chatterjee attended UC Berkeley and Stanford University.