RSA 2014: ISMG Behind the Scenes
A Look at the Editorial Team During This Year's Conference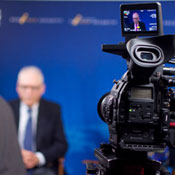 Information Security Media Group, Diamond Media Sponsor at RSA Conference 2014, was busy conducting video interviews with top leaders in information security, risk management and privacy. Here's a look at the team behind the scenes.
See Also: 2017 Predictions on Data Security: Insights on Important Trends in Security for the Banking Industry
ISMG editors Tom Field, Tracy Kitten and Eric Chabrow met with many key thought-leaders, including Gartner's Avivah Litan, White House Cybersecurity Coordinator Michael Daniel and ENISA's Udo Helmbrecht. These photographs show the editorial team preparing for their video interviews.