New Wave of DDoS Attacks Launched
Are Community Institutions Adequately Prepared?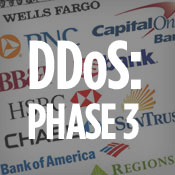 Hacktivists have formally launched their third wave of distributed-denial-of-service attacks on U.S. banking institutions.
See Also: Data Breach Battle Plans for Financial Services
On March 5, Izz ad-Din al-Qassam Cyber Fighters announced on the open forum Pastebin that banks and credit unions should brace for ongoing attacks beginning March 6.
"During running Operation Ababil Phase 3, like previous phases, a number of American banks will be hit by denial of service attacks three days a week, on Tuesday, Wednesday and Thursday during working hours," hacktivists claim in their most recent post.
Related Content
And while experts have warned institutions of all asset sizes to maintain strong online guards, this newest wave of attacks is just starting to garner serious attention from community banks and credit unions. That's because smaller institutions, such as University Federal Credit Union and Patelco Credit Union, were among those hit during the hacktivists' second wave of attacks.
"The NCUA's warning has highlighted DDoS attacks as a concern worthy of consideration," says Richard Reinders, information security officer for Lake Trust Credit Union, a $1.5 billion non-profit institution based in Michigan. "It has provided needed attention to the issue, so the results from it so far are positive."
Reinders is referring to a recent alert from the National Credit Union Administration, which notes that DDoS attacks are often waged as tools of distraction to conceal fraud. "Credit unions should voluntarily file a Suspicious Activity Report if an attack impacts Internet service delivery, enables fraud, or compromises member information," the alert states. "DDoS attacks may also be paired with attempts to steal member funds or data."
Mixed Messages?
Still, one Midwest community bank executive, who asked not to be named, says as recently as January, smaller institutions were getting mixed messages about their need for concern. While regulators and banking associations such as the Financial Services Information Sharing and Analysis Center had issued warnings about DDoS attacks linked to fraud, federal investigators suggested hacktivists' attacks were the primary worry, the executive says.
"We spoke with the FBI a couple weeks ago about DDoS attacks on community banks, and they basically stated that the smaller community banks have not, and most likely will not, be targeted by DDoS attacks," the executive told BankInfoSecurity in early February, shortly after Izz ad-Din al-Qassam Cyber Fighters announced plans to halt its attacks. "They didn't feel banks our size and smaller needed to spend a lot of time and resources on this issue."
That perspective, however, has evolved among some executives since late January, when the attacks shifted and mid-tier institutions were among the hacktivists' new targets.
Reinders says credit unions are heeding regulators' warnings. "Credit unions are definitely talking about it, but it seems there is some hesitancy to discuss specifically what they do at this point."
Phase 3
Experts say banking institutions should do more of the same to prepare for this newest wave of attacks. The lessons learned during phase one, which hit in September and October, taught the industry how to collaborate and brace. Strikes waged against them during phase two, which hit in December and January, were less tasking for that reason, says Rodney Joffe, senior technologist for online security provider Neustar Inc.
In addition to sharing information about the attacks suffered, financial institutions have been more closely collaborating with Internet service providers to scrub and block traffic. Some also have implemented measures to turn off access to certain parts of their online sites, such as search functions, when DDoS activity is detected. These precautions, and others, have helped ensure sites are not completely taken offline by an attack, experts say.
Latest Tweets and Mentions