Mobile Security Revenue for Banks?
Why Institutions Are Best Positioned to Protect Mobile Payments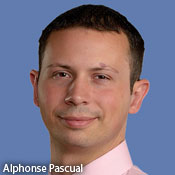 Increased interest in mobile wallets and growing smart phone use are paving the way for more mobile payments, and now is the time for banking institutions to identify what role they'll play in this emerging space.
See Also: Cybersecurity, Digital Transformation and Resiliency - A Lesson for Financial Services Institutions
Javelin analyst Alphonse Pascual, who focuses on financial fraud and security, says institutions can't ignore mobile payments, despite the somewhat peripheral role they play. Banks and credit unions that sit by the sidelines will miss out on revenue-generating opportunities, he says.
Related Content
Institutions should not try to compete for mobile payments share with social media giants such as Google and Facebook, but they should stake their claims as the experts in transactional security.
"Financial institutions need to ensure that those mobile wallet implementations they're backing and the tools they plan on using have the same degree of security that consumers expect from their mobile banking platforms, or better," Pascual says in an interview with Information Security Media Group's Tracy Kitten [transcript below].
Javelin's mobile research shows consumers are ready to adopt mobile wallets, but they want to be sure those mobile transactions are secure, he says. "If it's done wrong, as far as security, then you could potentially lose not just the mobile wallet customer, but also the banking customer," Pascual says.
Fortunately, banking institutions are taking that worry seriously, Pascual says. But he warns banks and credit unions not wait too long to make moves toward implementation.
During this interview, Pascual discusses:
How banking institutions can use emerging payments to build loyalty with existing customers;
Why payments fraud is the new sweet spot for criminals;
How banks and credit unions can bring emerging payments and non-traditional players together in a way that ensures security.
Pascual leads the security, risk and fraud practice at financial consultancy Javelin Strategy & Research. He began his career with HSBC during the height of the mortgage boom. While working in HSBC's borrower verification department, Pascual performed enhanced due diligence investigations of high-risk loans. He later joined Goldman Sachs' fixed income, currency and commodities division, serving on its mortgage fraud investigations team. Later he joined Fidelity National Information Services, now FIS Global, to oversee data-driven investigations of organized payment fraud groups in the U.S. Pascual is a member of the Association of Certified Fraud Examiners and the International Association of Financial Crimes Investigators.
TRACY KITTEN: Tell us about yourself and the role that you'll be playing at Javelin.
ALPHONSE PASCUAL: My professional experience has primarily been within the world of fraud investigations, and that has taken me to some interesting places. Prior to Javelin, I had spent time working at HSBC and Goldman Sachs while the mortgage market was hot. Those times were exciting for everyone in the financial industry. Working where I had and doing what I was doing definitely provided a unique perspective on just how pervasive fraud could be.
After the bottom fell out, I moved to FIS Global. They're massive, serving merchants and financial institutions throughout the country and around the world. ... Working with payments definitely means being mindful of security. With payment fraud, you're talking about criminals compromising an incredible number of combined identities and accounts. Understanding how they could have obtained those identities and accounts helps shape the investigations; so you have to be mindful of all the ways this stuff can be had. ...
Mobile Payments and Security
KITTEN: What can you tell us about some of Javelin's consumer research into mobile payments?
PASCUAL: There are some great findings that everyone in the field should be aware of, as far as consumer perceptions on mobile and wallets, some of which will be really germane to the financial industry. We know that 63 percent of mobile bankers are interested in using a mobile wallet, which is twice that of all mobile consumers. That's really important to note. And of all consumer segments, which includes all consumers and online bankers, mobile bankers are the most likely to rate security as compelling when selecting a new bank; it wouldn't be much of a stretch to think that they place the same value on wallet security.
Follow Jeffrey Roman on Twitter: @gen_sec
Latest Tweets and Mentions