Events , RSA Conference 2015 , RSA Conference 2015 Videos
Live from RSA Conference 2015: Video Interviews
Streaming Video Discussions with Today's Top Security Leaders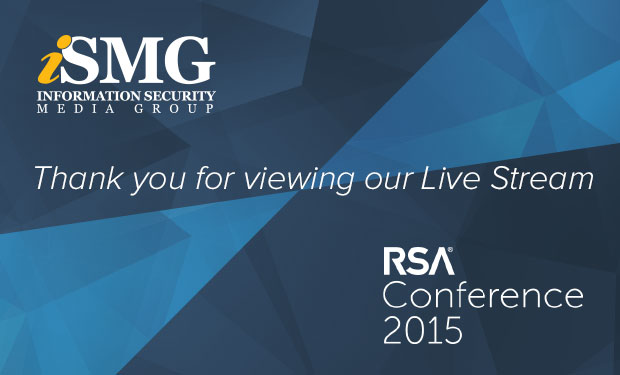 This is your connection to real-time thought-leadership from RSA Conference 2015.
Direct from the show floor at the Moscone Center in San Francisco, Information Security Media Group offers for the first time ever a live streaming video feed of exclusive interviews with the world's top information security leaders.
ISMG, publisher of BankInfoSecurity, DataBreachToday, InfoRiskToday and two-dozen other international media sites, will host these interviews at RSA Conference 2015 from Tues, April 21, through Thurs, April 23. The interviews will be hosted by ISMG VP Tom Field and executive editors Eric Chabrow, Mathew Schwartz and Tracy Kitten. Featured guests include top thought-leaders from business, government, security solutions vendors and analyst firms. Check back daily for an updated schedule of interview subjects and times.
---
Step Inside Our Studios Event Schedule
All posted times are PST
Tuesday, April 21
9:00am - Rohyt Belani , CEO, PhishMe. Where: East Mezzanine Room 236
9:30am - Stuart Itkin , CMO, ThreatTrack Security. Where: East Mezzanine Room 236
9:45am - Christofer Hoff, CTO, Juniper Networks. Where: East Mezzanine Room 236
10:00am - Jim Anderson , President of the Americas region, BAE Systems Applied Intelligence. Where: East Mezzanine Room 236
10:30am - Shawn Henry, President, CrowdStrike. Where: East Mezzanine Room 236
11:00am - Michelle Dennedy, Chief Privacy Officer, Intel Security. Where: East Mezzanine Room 236
11:00am - Trevor Hughes, CEO, International Association of Privacy Professionals. Where: East Mezzanine Room 236
11:30pm - Kim Little Sutherland, Senior Director, LexisNexis Risk Solutions. Where: East Mezzanine Room 236
11:45am - Peter George, CEO, Fidelis Cybersecurity. Where: East Mezzanine Room 236
2:00pm - Court Little, Director of Product Management, Solutionary.Where: Booth #4042
2:30pm - Christy Wyatt, CEO, Good Technology. Where: Booth #4042
3:00pm - Bryan Jardine, Director of Fraud Solutions, Easy Solutions. Where: Booth #4042
3:15pm - Ann Barron-DiCamillo , US-CERT Director, US Govt. Where: Booth #4042
3:30pm - Tom Kellermann, Chief Cybersecurity Officer, Trend Micro. Where: Booth #4042
Wednesday, April 22
9:00am - Eduardo Perez, Senior VP, Visa, Inc. Where: East Mezzanine Room 236
9:30am - Amit Chatterjee, EVP, CA Technologies. Where: East Mezzanine Room 236
1:00pm - Margee Abrams, Director, Neustar Where: Booth #4042
1:30am - Jacob Olcott, BitSight Technologies. Where: Booth #4042
2:00pm - Chris Richter, Level 3 Communications. Where: Booth #4042
2:30pm - Joseph Burton, Partner, Duane Morris LLP. Where: Booth #4042
2:30pm - Brian Honan, Principal, BH Consulting. Where: Booth #4042
3:00pm - Randy Trzeciak, Technical Lead, Insider Threat Program, Software Engineering Institute at Carnegie Mellon University. Where: Booth #4042
3:30pm - Ed Hammersia, COO, Raytheon Where: Booth #4042
Thursday, April 23
9:00am - Rob Stroud, International President, ISACA. Where: East Mezzanine Room 236
10:30am - Andy Ellis, CSO, Akamai. Where: East Mezzanine Room 236
11:00am - John Maddison, VP Marketing, Fortinet. Where: Booth #4042
11:30am - Dave Frymier, CISO, Unisys. Where: Booth #4042
1:00pm - Sam Curry, Chief Technology and Security Officer, Arbor Networks Where: Booth #4042
1:30pm - Jason Cook, Chief Architect and CTO, BT Global Services. Where: Booth #4042
2:00pm - Dr. Zulfikar Ramzan, CTO, RSA. Where: Booth #4042
2:30pm - Stephen Wu, Attorney, Silicon Valley Law Group. Where: Booth #4042
3:00pm - Art Gilliland, Senior Vice President and General Manager, Enterprise Security Products, HP Where: East Mezzanine Room 236
3:30pm - David Pollino, SVP, Enterprise Fraud Prevention Officer, Bank of the West Where: East Mezzanine Room 236