Who's Securing Mobile Payments?
Consumers Expect Banks to Protect the Mobile Wallet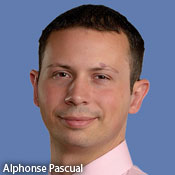 Google and Facebook are in the mobile payments arena. But consumers still expect their banking institutions to secure the mobile wallet, says Alphonse Pascual of Javelin. What role must banks play?
Pascual, who focuses in security, risk and fraud at Javelin Strategy & Research, says banking institutions must declare their roles as security experts in mobile payments, and they have to stake their claims early. As more non-traditional financial players take seats at the emerging payments table, the burden of security leadership and fraud prevention will fall on the shoulders of traditional financial-services providers, he says.
Related Content
"When you combine the growing number of financial transactions and the growth in mobile malware, it's big," Pascual says in an interview. "When it comes to emerging payments, especially mobile payments, security is defined by the technologies, and that's part of the problem."
Mobile payments providers are not well-defined, and many fall outside the scope of regulatory scrutiny to which traditional financial players are subjected, he says.
"A lot of the concern there is how hard regulators will look at companies like Google and Facebook, which have both come out with payments [tools] and are trying to get some of the market share here," Pascual says.
For Google, it's a mobile wallet. For Facebook, it's monetary credits. But according to recent mobile research conducted by Javelin, consumers expect banks and credit unions to secure those emerging payments tools, regardless of whether they actually provide them, he says. That's because consumers see banking institutions as the security experts - a role they must embrace.
"Financial institutions need to ensure that the mobile wallet solutions they are backing have the support of their consumers," Pascual says. "But they need to make sure it's done right, with security in mind, up front."
During this interview, Pascual discusses:
How banking institutions can use emerging payments to build loyalty with existing customers;
Why payments fraud is the new sweet spot for criminals;
How banks and credit unions can bring emerging payments and non-traditional players together in a cohesive way that ensures security and keeps banking institutions in the payments loop.
Pascual leads Javelin's security, risk and fraud practice. He began his career with HSBC during the height of the mortgage boom. While working in HSBC's borrower verification department, Pascual performed enhanced due diligence investigations of high-risk loans. He later joined Goldman Sachs' fixed income, currency and commodities division, serving on its mortgage fraud investigations team. Later he joined Fidelity National Information Services, now FIS Global, to oversee data driven investigations of organized payment fraud groups in the U.S. Pascual is a member of the Association of Certified Fraud Examiners and the International Association of Financial Crimes Investigators.
Latest Tweets and Mentions