The Privacy Pro's Challenge
It's Never Been a Better - or Busier - Time to Enter the Profession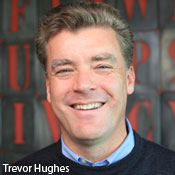 There have never been so many job opportunities for privacy professionals. Nor have there ever been so many challenges. Trevor Hughes of the IAPP discusses what it takes to grow a privacy career.
"We see privacy issues emerging in every new technology, in many new business models and in many legacy technologies and business models as well," says Hughes, president and CEO of the International Association of Privacy Professionals. "Whether it's facial recognition or smart phones or smart grid meters on houses with utility deployment around the world - we see privacy issues in the middle of all of those technologies."
Related Content
At the same time, emerging business models such as online advertising bring privacy questions to the fore, and every region of the world is grappling with questions about new privacy legislation.
"Not only are the issues getting more complex, but the regulators are looking at them in a more significant way, and that makes for a very tricky environment for privacy pros," Hughes says.
Another challenge for privacy pros: Exerting influence within their own organizations.
"One of the classic challenges is that you're always asking for money, and you can never really demonstrate revenue associated with it," Hughes says. But that dynamic is changing. "Many organizations are now recognizing they can use privacy as a component of their brand. Privacy drives trust; trust drives consumer engagement; consumer engagement drives profits and better ROI."
In an interview about privacy careers, Hughes discusses:
The explosive growth of the profession;
How to shape a career in privacy;
Legal and regulatory trends to track.
Hughes is an attorney specializing in e-commerce, privacy and technology law. In his role as executive director of the IAPP, Hughes leads the world's largest association of privacy professionals.
Hughes has testified before the U.S. Congress Commerce Committee, the U.S. Senate Commerce Committee, the U.S. Federal Trade Commission and the EU Parliament on issues of privacy and data protection, spam prevention and privacy-sensitive technologies. He is a member of the first class of Certified Information Privacy Professionals (CIPPs) and is co-author (with D. Reed Freeman, Jr.) of "Privacy Law in Marketing" (CCH Wolters Kluwer, 2007).
Latest Tweets and Mentions