Privacy: Changing a Corporate Culture
Insights on Building a 'Culture of Compliance'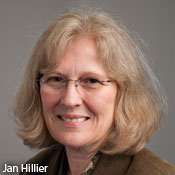 Creating a "culture of compliance" that emphasizes the importance of privacy requires far more than "management by committee," says change management specialist Jan Hillier.
Instead, a successful effort to build a corporate culture that values privacy and regulatory compliance should be built on ideas that come from the rank-and-file staff in all departments, says Hillier, clinical assistant professor of management at Indiana University-Bloomington.
"Leaders frequently want to form a committee with representatives of various departments on it to manage change," Hillier says. "Management by committee is a mistake." Instead, she says senior department leaders must explain the reasons for a cultural change to the entire staff and then ask everyone to "give us your best ideas of how you think we need to go about doing this."
Related Content
In an interview, Hillier outlines a three-step approach to change management, including:
Define the vision. "Identify what needs to change and why and paint a picture of what the culture needs to look like in two or three years."
Create a change vision value proposition. "Explain why a culture of compliance and patient confidentiality is important and why we need to do it now," she says. "What's going to happen if we don't change? And how will this culture provide value?" For example, she advises stressing that the organization could lose money if patients feel that their confidentiality is not respected and take their business elsewhere.
Manage the process. Be sure to involve all staff in identifying ways to change the culture. "Take the time to explain the problem to people and ask for their help in coming up with a solution to the problem."
Hillier, who focuses most of her attention on privacy and compliance in the healthcare space, says organizations should implement what she calls "emotional intelligence" when management changes occur. The concept involves "the capacity to recognize my own feelings and others' feelings as well and how to manage my emotions and then, as a result, be able to work well with other people."
Successful change management programs, Hillier says, "ask people to change their behavior. And managers are on the front lines of that change. You need them to 'walk the talk' and serve as role models. ... Emotional intelligence really helps managers learn how to influence others by understanding themselves and their relationships with others. And when you get managers to change, they will be the chief promoters of change within their direct reports."
Hillier is a clinical assistant professor of management at the Kelley School of Business, Indiana University-Bloomington. She brings an extensive background in management consulting, organization effectiveness, change management and leadership development to her teaching. At McKinsey & Co., where she consulted for five years, she worked on a variety of team-based projects for major industrial, service and healthcare clients. As the vice president of a medical center, Hillier developed a change management/leadership development program based on the concept of "emotional intelligence." She has an MBA and a Ph.D. in organization theory from Indiana University.
Latest Tweets and Mentions