Mobile Security Case Study
Bank Focuses on Secure File-Sharing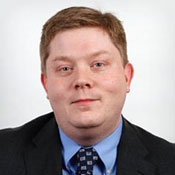 As bank employees rely more on mobile devices to get their work done, ensuring secure file-sharing is a top priority. James Gordon of Needham Bank in Massachusetts shares his security strategy.
"We were an early adopter of the iOS platform. We've been on the frontlines for deployment of those devices," including accommodating the use of personally owned devices, says Gordon, who manages IT for the $1.2 billion bank. "We are having more discussions about how to use iPads for more than just an e-mail. And as that shift started to happen, we researched a number of different solutions."
Related Content
The bank needed software that could allow it to integrate its iOS mobile devices with legacy file-sharing systems, such as Microsoft's SharePoint, as it ramped up content collaboration, he says in an interview with Information Security Media Group.
"We learned it's more about managing content than managing the device," Gordon says. The bank chose a secure mobile content collaboration and file sharing application from Accellion, which it manages internally under the brand NB Exchange.
To help minimize security risks, the bank implemented the application in-house, rather than relying on the vendor to host it remotely, he says. "You need to make a decision early about whether you're going to be a vendor management shop or an IT shop," Gordon says. "Is it tech we manage or vendors? ... For me, I'm going to be on the tech side."
During this interview, Gordon discusses:
Why 2014 will see an explosion of content collaboration activity over mobile devices, which requires specialized security measures;
How security risks can be better managed with software that's locally hosted;
Why banking institutions should be leery of outsourcing to the cloud.
Gordon, who serves as the bank's first vice president, joined Needham Bank in 2007. He focuses on implementing technology initiatives that positively impact lines of business, the customer experience and the bottom line. Previously, he served as network administrator of South Coastal Bank.
Latest Tweets and Mentions