Mobile Payments: Tackling Risks
Council Brings Banks, Merchants Together to Fight Fraud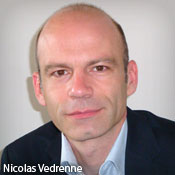 As mobile transactions grow, so do the fraud risks. How is the Merchant Risk Council working with card issuers and merchants to address these threats? Nicolas Vedrenne of the MRC offers insight.
Vedrenne, managing director of European operations for this Seattle-based non-profit international trade association, says fraud, especially in the arena of emerging payments , is a growing global concern.
Related Content
As payments technologies and platforms, such as mobile, take off, that concern will only compound, and industry collaboration will be essential, Vedrenne says.
"On mobile payments, we're working to get ahead of it," he says. "Right now, the big issue for mobile payments is what will be the adopted transaction platform?"
Consumers don't want to deal with too many choices, Vedrenne says, and that's an issue the entire payments network has to address.
But with so many players and industries touching the payments chain, getting that entire network to the table is challenging, Vedrenne says.
"That's what why the council was created," he says.
Though focused on merchant security and risk, the decade-old council also includes representation from the banking, hospitality and travel industries. It also has involvement from payments processors, network providers and the card brands, Vedrenne says.
"We think payments fraud is an issue that requires information sharing," he adds.
During this interview, Vedrenne discusses:
The role the MRC plays to help merchants, card issuers and others mitigate payments fraud;
How differing global markets address e-commerce, mobile payments and traditional payments fraud;
Why cross-border information sharing is increasingly critical.
Vedrenne developed his career in France, the United Kingdom, Latin America and Spain with the Société Générale, Sema Group and Monext, where he specialized in payment systems, fraud prevention, risk-management and credit bureaus. In 1999, Vedrenne oversaw several Experian businesses Latin America and Spain. As an advocate of cross-cultural understanding, Vedrenne co-wrote a book on "change and business transformation," and he is a co-founder of 1x1microcredit.org, a non-profit association that specializes in microcredits in developing countries. Since 2010, he has overseen European operations for the Merchant Risk Council, the world's foremost global, nonprofit, merchant-led organization focused on managing payments, preventing online fraud and promoting secure e-Commerce.
Latest Tweets and Mentions