ABA: Reg E Bill 'Inappropriate'
Banking Group Says Schumer Proposal Could Hurt Banks, Customers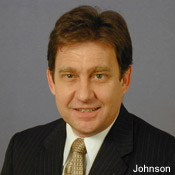 If passed, Sen. Charles Schumer's proposed amendment to Regulation E could do more harm than good, says Doug Johnson of the American Bankers Association.Schumer, D-N.Y., has proposed an amendment to Regulation E that would give municipalities and school districts the same level of fraud loss protection as consumers.
Schumer says his proposal is a response to the ongoing threat of ACH/wire fraud, but critics say the bill could do more harm than good.
Related Content
Johnson, vice president and senior advisor of risk management policy for the American Bankers Association, says the ABA is opening a dialogue with Schumer in an effort to ensure the needs of banks and their customers and clients are taken into full consideration. Johnson says he's "optimistic" that all sides can meet at a satisfactory halfway point.
During this interview, Johnson discusses:
Why the ABA is opposed to the amendment as it is currently written;
How the ABA expects to work with regulatory agencies, Congress and law enforcement to enhance communication and a better understanding of the banking business;
Why more education is needed, across the board, to maximize security and move the industry toward a positive resolution.
Johnson is the American Bankers Association's vice president and senior advisor risk management policy, where he is involved in a variety of public policy and compliance issues. He currently leads the association's enterprise risk, physical and cyber security, business continuity and resiliency policy and fraud deterrence efforts. He has assisted in the ABA's release of a series of resources to deter bank robberies, assess information technology risk, deter phishing, safeguard customer information and buttress emergency preparedness.
Johnson represents the ABA on the Financial Services Sector Coordinating Council, which advises the federal bank regulatory agencies on homeland security and critical infrastructure protection issues, and serves on the BITS/Financial Services Roundtable Security Steering Committee. He is also a board member of the Financial Services Information Sharing and Analysis Center, a private corporation that works with government to provide the financial sector with cyber and physical threat and vulnerability information, as part of the nation's homeland security initiative.
Latest Tweets and Mentions