IP Protection Bills Threaten Internet
Creating Incentives to Do Voluntarily What Criminals Try to Do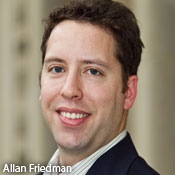 The Brooking Institute's Allan Friedman says bills before Congress aimed at protecting intellectual property threaten cybersecurity.The Senate's Protect IP Act (S 968) and the House's Stop Online Piracy Act (HR 3261) will not "break the Internet" but will further burden cyberspace with new risks, Friedman, a fellow at the think tanking Brookings Institute, says in an interview with Information Security Media Group (click on one of Podcast Options at right to listen).
The legislation allows the federal government to order Internet service providers to use the Domain Name System's DNS resolvers - the technology responsible for translating a domain name into an IP address - to inform users that a website deemed to infringe intellectual property does not exist. "The law requires these DNS resolvers lie, and say, 'Listen, there is no website,'" Friedman says. "This in general isn't a great idea; it makes things less stable."
Related Content
People will easily figure out ways to circumvent DNS blocking, Friedman says. "The bill is not focused on getting these websites off the Internet; it's focused on making sure that Americans can't access them," he says. "However, it's very, very easy to get around DNS blocks. All you have to do is use a DNS resolver that's not in the jurisdiction of the bill; it's outside of America."
Many foreign domain resolvers aren't trustworthy, Friedman says. "We've already seen this as an increasingly common attack for cybercriminals; they try to change innocent users' domain name resolvers or DNS servers they're pointing to. And now America is saying, by law, we're going to create very strong incentives for people to go and do voluntarily what the criminals are trying to do by tricking us or through malware."
In the interview, Friedman identifies flaws with the legislation:
Adding complexity that would make the goals of stability and security more difficult.
Exposing many American Internet users, their computers and employers to known risks.
Setting back other efforts to secure cyberspace, domestically and internationally.
As a fellow in governance studies, Friedman wrote a policy briefing - Cybersecurity in the Balance: Weighing the Risks of the Protect IP Act and the Stop Online Piracy Act - on how IP protection laws could endanger cyberspace security.
Friedman also serves as research director at Brooking's Center for Technology Innovation. His work spans the social sciences, public policy and computer science, and has addressed issues ranging from electronic medical records to telecommunications policy.
Before joining Brookings, Friedman was a fellow at the Center for Research on Computation and Society in the Harvard Computer Science department, where he worked on cybersecurity policy, privacy-enhancing technologies and the economics of information security. Friedman also was a fellow at the Belfer Center for Science and International Affairs, where he worked on the Minerva Project for Cyber International Relations.
Friedman holds a Ph.D. in public policy from Harvard. He earned his bachelor degree in computer science from Swarthmore College.
Latest Tweets and Mentions