Infographic: 2014's Top Breaches So Far
From Target to JPMorgan Chase, A Look at Year's Incidents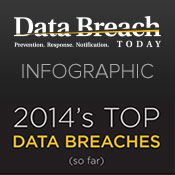 Starting with the high-profile Target breach last December, a string of major data breaches has affected every major business sector.
See Also: Bank Payment Clearance Vulnerabilities: Faster Payments, Faster Fraud?
This infographic from DataBreachToday lists some of the most significant breaches, based on when the company publicly acknowledged the incident.