Events , RSA Conference 2015 , RSA Conference 2015 Videos
Why Info Sharing Is 2015's Hot Topic
Push for Threat Intelligence Now Impacts Every Sector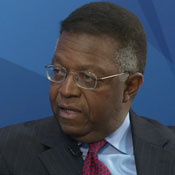 While financial services organizations have focused more attention and energy on information sharing for the last two years, other verticals are just starting to catch up. But why now?
In an interview recorded at RSA Conference 2015, attorney Joseph Burton discusses:
See Also: 2017 Predictions on Data Security: Insights on Important Trends in Security for the Banking Industry
The legal implications for information sharing;
The regulatory push for more information sharing and threat intelligence sharing across industries;
The impact new FFIEC guidelines will have on community banks.
Burton, managing partner of the San Francisco office for law firm Duane Morris LLP, is a nationally recognized expert in information security law, with an emphasis on cybercrime and cybersecurity. He is a former assistant U.S. attorney for the Northern District of California, where he handled the first prosecution in the U.S. for criminal copyright infringement of computer code.