Events , RSA Conference 2015 , RSA Conference 2015 Featured
Fidelis CEO Talks Threat Defense
Peter George on Responding to Today's Toughest Attacks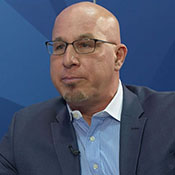 Fidelis Cybersecurity is being spin off from General Dynamics. CEO Peter George discusses the company's bright future, leading organizations to improve their defenses against today's top threats.
See Also: Three and a Half Crimeware Trends to Watch in 2017
In an interview recorded at RSA Conference 2015, George discusses:
The future of Fidelis Cybersecurity;
Threat trends and how they are impacting organizations;
His own challenges as CEO.
George has been president of General Dynamics-Fidelis Cybersecurity Solutions since 2012, and since 2008 was president and CEO of Fidelis Security Systems. For seven years prior to that, he was president and CEO of network security and unified threat management firm Crossbeam Systems. He's also worked at Nortel Networks, Bay Networks, 3Com, and Ungerman Bass.