FFIEC Compliance: Where are the Gaps?
Terry Austin, President & CEO, Guardian Analytics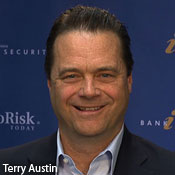 Banking regulators have begun examining institutions for conformance to the FFIEC Authentication Guidance. What gaps have they found? Terry Austin of Guardian Analytics offers insight and security tips.
See Also: IoT is Happening Now: Are You Prepared?