Events , RSA Conference 2015 , RSA Conference 2015 Featured
Enterprise Mobility: Evolving Security
Good Technology's Christy Wyatt on Mobile Security, Innovation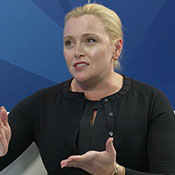 As mobility cements itself as the ubiquitous technology of choice, the threats are evolving - and so must the defenses. Christy Wyatt of Good Technology on the future of enterprise mobility management.
See Also: 2017 Predictions on Data Security: Insights on Important Trends in Security for the Banking Industry
In an interview recorded at RSA Conference 2015, Wyatt discusses:
The state of mobile security;
How enterprise mobility management must evolve;
Her vision for information sharing.
Wyatt is president and CEO of mobile security provider Good Technology. She previously headed Citi's e-business and mobile technology group, developed and introduced a $1 billion enterprise business group to handset maker Motorola, as well as worked at Apple - heading its worldwide developer relations team - and Palm.