Pandemic Preparation: Regulatory Relief, Workforce Readiness Remain Open Questions
Interview with George Hender, Head of Financial Services Exercise
By Linda McGlasson, February 11, 2008.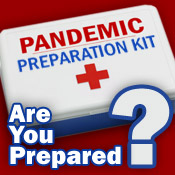 T
See Also: How Cybercriminals Use Phone Scams To Take Over Accounts and Commit Fraud
he word of the year so far is "pandemic."
Just last week, Information Security Media Group released the results of its inaugural State of Information Security survey, which in part found that, of all prospective disasters, U.S. financial institutions are least prepared for a pandemic emergency.
And then just days later, the Federal Financial Institutions Examination Council (FFIEC) issued an interagency statement on pandemic planning for financial institutions.
Related Content
In light of all the attention being paid to pandemic preparation, we caught up with George Hender, chair of the Financial Services Sector Coordinating Council (FSSCC), which last fall teamed up with the US Department of the Treasury and the Financial Banking Information Infrastructure Committee (FBIIC) to complete the largest-ever pandemic exercise for the U.S. financial services industry. Following are excerpts of our conversation with Hender, who was attending a recent symposium on pandemic planning in Washington, D.C., where the results and model of the FSSCC/FBIIC/Treasury exercise was on display for other interested governments to review.
Q: First, what was the focus of this pandemic symposium, and what was presented?
Hender: At the symposium we released information to a dozen nations around the globe, The symposium attendees include government and industry representatives from Europe and Asia. Singapore plans to do their own pandemic exercise later this year. The information they're getting at the symposium will prove invaluable to them in structuring the exercise, but also why it's important to do an exercise like we did here in the United States. (See related story on Pandemic National Exercise)
Q: What are some of the future considerations for the industry and institutions coming out of this exercise?
Hender: One of the big questions coming out of this exercise was what do we do next? We have a group called the pandemic forum, which FSSCC formed, and had members from FSSCC and also from the public sector including critical interdependency areas, such as health care, telecommunications transportation systems,
A number of things came out of the national exercise that we feel need further attention. We've taken several of these points back to the Pandemic Forum to say these are some of the things that seemed to work well, and these are the areas that need more work to improve. The forum will be charged with that responsibility in finding solutions and will move forward to find them. The areas that need more work include the whole area of interdependencies, particularly in the area of telecommuting. How will this work? It still needs further investigation and more work.
Another is the whole area of regulatory relief -- part of our pandemic forum includes those regulatory agencies that regulate our businesses. I feel we have to go back to them and say, 'Okay we've gone through the exercise and we've seen where in past incidences regulatory relief would probably have been sought, and we'd like to get your reaction to on whether you would have granted regulatory relief or you would not grant it, based on the facts that were presented in the scenario.'
It's very hard to get an answer on this question of regulatory relief. The typical answer you get from the agencies is, 'We'll deal with that situation when it happens. It's very hard for us to make a decision before it happens.' But you could say that about anything.
One of the issues facing the industry is moving business. Almost all (99%) of the major firms who participated in the exercise indicated they were making plans to move their business units to other parts of the country, and even different parts of the world. In that case, they will need regulatory approval to do it, and in certain cases regulatory relief.
It's an appropriate question for the regulators to respond to -- if a bank has to move its business either to another area of the state or region, or even to another country, the agencies should be able to respond to it in advance, and say, 'Feel comfortable in planning for this, we are going to offer relief on this.' Without this advanced notice of regulatory relief, it's going to be very difficult for firms such as Goldman Sachs, as an example, for them to build into their plans a move of their business units to other places in the world, or even into another region of the country.
Latest Tweets and Mentions