Card Fraud Spurs EMV in U.S.
Visa: Skimming, Mobile Make Time Right for EMV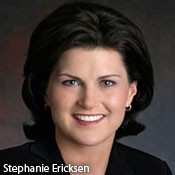 Visa has set aim on 2013 as one of its EMV target dates.
See Also: Identity, Security and Risk Requirements for a New IAM Architecture
The Europay, MasterCard, Visa standard, now commonly used in place of the magnetic-stripe in most global markets, says Visa is serious about getting the U.S. payments infrastructure ready for new technology. That serious attitude was the catalyst for Visa's creation of an EMV-adoption roadmap as well as guidelines to help issuers and merchants successfully launch and complete their EMV rollouts.
Related Content
The catalyst for Visa's EMV push: escalating incidents of card fraud. The United States' continued reliance on magnetic-stripe card technology is perpetuating the spread and growth of global card fraud.
MasterCard also has set a 2013 EMV-compliance deadline for all U.S. ATMs, which are the targets most often hit by skimming attacks.
Ericksen, who focuses her attention at Visa on payments solutions, security and devices, says losses linked to skimming are escalating, and vulnerabilities fraudsters exploit in the U.S. increasingly pose challenges for the rest of the world.
"Several factors are at play that we believe made this a good time for the U.S. to adopt and embrace chip technology," Ericksen says. "The movement toward mobile, which uses the same technology as EMV, is a big reason. We've been working on that in the U.S. for a long time. ... and we've had several U.S. issuers that have been looking to issue chip cards for their international travelers."
In an exclusive interview with BankInfoSecurity's Tracy Kitten [transcript below] Ericksen discusses:
Why more EMV rollouts are expected to focus on credit first and debit later;
The role the Federal Reserve could play in EMV-migration incentives for card issuers; and
Why the U.S. is in a better position than its global EMV predecessors to rapidly roll out a chip-capable infrastructure.
Ericksen is responsible for managing integration of Visa's contactless and contact chip payment services and new form factors beyond traditional cards, Verified by Visa, Visa Advanced Authorization, Visa Risk Manager, and the product platforms that enhance the security of Visa's core product offerings. Since joining Visa in 1994, Ericksen has been actively involved in developing the global smart card implementation strategy and formulating business cases for Visa Smart Debit/Credit, GlobalPlatform and multiapplication product offerings on contact and contactless chip cards and in mobile phones. Ericksen also has managed Visa's participation with standards organizations such as GlobalPlatform, EMVCo and the Mobile Payment Forum.
Visa's EMV Push
TRACY KITTEN: Visa is encouraging U.S. card issuers, acquirers and merchants to embrace chip technology that meets the requirements laid out in the Euro-Pay MasterCard Visa standard, which has been widely adopted throughout most of the world. What can you tell us about the timing of Visa's EMV push? Why now?
STEPHANIE ERICKSEN: When we're talking about chip in the United States, there's a nomenclature that exists in the industry where chip is commonly referred to as chip-and-pin. We're really trying to dispel that myth where we considered adoption of EMV technology or EMV chip as not always being partnered with pin. When we're talking about the U.S. adopting EMV technology and EMV chip, we're very much advocating the dynamic data and the dynamic authentication capability of chip, not so much chip-and-pin.
Follow Jeffrey Roman on Twitter: @gen_sec
Latest Tweets and Mentions