FDIC 'Problem' Banks Decline Again
Number of Problem Banks Falls to 844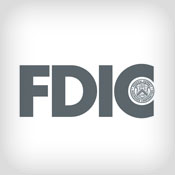 The number of banks listed on the Federal Deposit Insurance Corp.'s "problem list" has declined for the second consecutive quarter.

Problem banks that made the list went from 865 during the second quarter of 2011 to 844 in Q3, a sign that the economy is showing improvement, says James Chessen, chief economist for the American Bankers Association.

"The considerable slowdown in bank failures and continuing decline in the number of troubled banks is a positive sign," he says. "The FDIC is rebuilding reserves as the industry - which is solely responsible for all the agency's expenses - paid about $14 billion in premiums over the last year."

In Q2, bank totals on the problem list dropped from 888 to 865 [See FDIC 'Problem' Banks Decline.]

But Bill Isaac, a former head of the FDIC who serves as the senior managing director of Financial Institutions for FTI Consulting and is author of "Senseless Panic: How Washington Failed America," says the decline in troubled banks does not necessarily reflect improving economic health.

"The troubled bank list is a trailing indicator, not a leading indicator, so you can't read too much about the future into it," he says. Fluctuations in troubled bank and failure totals don't hit until about 18 months after an economic recession or recovery is well underway.

Bank earnings offer a better way to gauge the stability and growth of the economy, but even earnings don't tell the whole story. "The fact that bank earnings are up is a good sign," Isaac says. "But the fact that earnings are up is because banks created large reserves in 2008 and 2009 that are no longer needed; they over-reserved ... and that accounts for a significant part of the earnings increase we see now."

In light of the Gross National Product, which dropped from a growth rate of 2.8 percent to 2 percent this week, it's not time to "start doing handstands," Isaac says. "That's way too low to help us get unemployment numbers down," he says. "We've been in recovery for a year and a half and we've seen no decline in joblessness ... so I would take no comfort yet, and that does not even take what's going on in Europe into consideration."
Troubled Banks' Review
Total assets for FDIC problem banks dropped from $372 billion to $339 billion. "This is the second time since the third quarter of 2006 that the number of 'problem' banks has fallen," according to an FDIC statement.
Twenty-six FDIC-insured banks failed in Q3, four more than in Q2 but 15 fewer than in the Q3 2010. According to the FDIC, 74 insured institutions failed during the first nine months of 2011, compared with 127 failures during the same period in 2010. [For a complete list of failed institutions, see Failed Banks and Credit Unions, 2011.]
U.S. Banks Making Progress
Overall, commercial banks and savings institutions reported an aggregate profit of $35.3 billion during the quarter, an increase of $11.5 billion from the $23.8 billion reported in Q3 2010.
See Also: Live Webinar | Navigating the Difficulties of Patching OT
"We continue to see income growth that reflects improving asset quality and lower loss provisions," says FDIC Acting Chairman Martin Gruenberg. "U.S. banks have come a long way from the depths of the financial crisis. Bank balance sheets are stronger in a number of ways, and the industry is generally profitable, but the recovery is by no means complete."
But Gruenberg says ongoing stress in real-estate markets, slow job growth and global economic volatility continue to pose risks. "Even as the banking industry recovers, the FDIC remains vigilant for new economic challenges that could lie ahead," he says.
Associate editor Jeffrey Roman contributed to this article.