6 Tips to Curb ATM Skimming
Seattle Crackdown Offers Cues to Curtail Fraud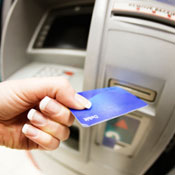 A
See Also: Stop Mobile Payment Fraud, Not Customers
s goes Seattle, so goes the nation?
Recent ATM skimming arrests in Washington State show not just how the U.S. Pacific Northwest is cracking down on fraud, but reflect trends that are common in many regions, law enforcement officials say. [See New ATM Skimming Arrests.]
Better yet for financial institutions: The Seattle crimes reveal patterns and cues that can help institutions better detect and prevent ATM fraud in their own backyards.
Related Content
"The police are getting savvier about this kind of crime," says Robert Kierstead, assistant special agent in charge of the Seattle office of the Secret Service, who spoke with BankInfoSecurity about the Seattle skimming sting.
Seattle Fights Back
Over the last three years, skimming attacks waged against
ATMs
and
pay-at-the-pump terminals
in Seattle and its surrounding suburbs have exploded.
"Some of the departments in the area, in Kirkland, Washington and Bellevue, have been conducting these investigations since 2008," Kierstead says. "Most of the suspects are foreign nationals, Romanian, Bulgarian and from other countries. We think some have traveled from Southern California, and that's why we're seeing more incidents here now."
Earlier in Sept., federal authorities arrested three suspects in Seattle for their alleged involvement in separate ATM skimming schemes that drained more than half a million dollars from retail customer accounts in at least six states.
Beneyam Asrat G-Sellassie, 22, of Seattle, Ionut Buzbuchi, 55, of Renton, Wash., and Mihai Eleckes, 35, of Issaquah, Wash., were charged for their alleged involvement in schemes that skimmed bank card details from ATMs, as well as card-readers used to access ATM vestibules outside branch lobbies. They also are thought to have recorded PIN details with miniature cameras installed near terminals and entry-access points.
Two more men were arrested and charged for their alleged involvement in yet another ATM skimming case that is believed to be connected to the theft of more than $1 million from area bank accountholders. [See 2 More ATM Skimming Suspects Jailed.]
Ismail Sali and Eugen Tirca, arrested Sept. 14, appeared in U.S. District Court on Sept.19, facing charges for possession of access device equipment. If convicted, each could face 10 years in prison and a $250,000 fine.
"Throughout the course of these investigations, authorities have seized forms for making card skimmers, fake face plates for ATM machines, gift cards, and electronic equipment for encoding stolen account data onto the cards," says U.S. Attorney Jenny A. Durkan, who chairs the Justice Department's Cybercrime and Intellectual Property Enforcement working group.
Authorities, during their raid of Sali and Tirca's residence in the Seattle suburb of Kirkland, also found documents tying Sali to defendants who had previously been arrested and prosecuted for skimming activity.
"We were running investigations for some time, and then we began to tie a lot of the evidence together," Kierstead says. "We did have a series of arrests that we were working on, and then some bank officials and retailers noticed some suspicious activity, and it all came together at once."
Kierstead can't say with certainty why Seattle has become such a target for skimming. "I know this is a very affluent area," he says, and that likely made the area attractive to fraudsters.
What he can say with certainty is that law enforcement is getting serious about cracking down on skimming crimes. "These PDs, whether in Bellevue or Redmond or Kirkland, etc., if they get a call about suspicious activity, they move quickly on it."
When authorities arrested G-Sellassie, he was trying to use counterfeit cards at a Chase Bank branch ATM. Chase security personnel caught him on surveillance and immediately contacted authorities.
Latest Tweets and Mentions