The Fed's Impact on Fraud Funding
Interchange Move May Push Banks to EMV, New Solutions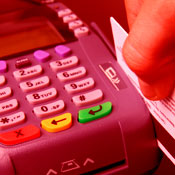 B
See Also: More Threat Vectors, More Security & Compliance Challenges
anks made a few gains this week in the debit interchange debate, after the
Federal Reserve
announced June 29 it would offer a 1-cent per transaction incentive for fraud prevention investments tied to debit-card transactions. [See
Debit Fraud and Interchange
.]
The Fed's ruling imposes a fee cap of 21 cents per transaction and five basis points, which is multiplied by the value of the transaction. [See the Fed's ruling.]
Related Content
The fee adjustment aims to offset interchange losses called for in the highly contested amendment proposed by Sen. Dick Durbin, D-Ill., to the Dodd-Frank Wall Street Reform and Consumer Protection Act - losses card issuers have said would adversely affect their abilities to absorb fraud related to debit transactions. A card issuer that invests in "new and improved" fraud prevention solutions tied to debit now could receive 24 cents per transaction, up from the 12-cent cap originally proposed in the legislation.
The Fed also extended the effective date of the fee cap from July 21 to Oct. 1.
Jim Schlegel, senior product manager for ACI Worldwide, says most banks will count on getting the 1 cent incentive. "A lot of institutions today have broad fraud services that they access and use, so I think the idea is to evaluate those systems against the interpretation that's come out by the Fed," he says. "Is our investment level acceptable, based on what the Fed has put out?"
Fraud Investments?
Most banks budget for fraud losses. But with less income from debit interchange, they'll have to realign not only their budgets but also their thinking. "From my perspective, the cost of [debit] fraud is going to become extremely difficult to absorb if the income financial institutions count on from their interchange channel gets reduced," says Smart Card Alliance Executive Director
Randy Vanderhoof
. The Smart Card Alliance is a non-profit global association that supports smart or chip-based payment technology providers. "When the percentage of fraud against the revenue those transactions generate significantly changes, I think banks and card issuers will be looking for solutions that can offer greater fraud reduction."
That could mean more interest in investments in advanced card technology, such as EMV - the Europay, MasterCard, Visa standard. The Fed won't mandate that move, as some had speculated earlier in the debate. But banking institutions may have more incentive now to initiate investments without regulatory pressure.
"If they're just expecting to lose that money, I would imagine that someone within the bank needs to look at the fraud losses those vice presidents and directors are expecting every year and figure out a way to start pumping that money back into the system," Schlegel says. "Now they need that additional funding, because of the cut in interchange income, which had helped to cover those losses in the past. I think we'll see some additional investments in fraud prevention tools as a result, and it could be EMV tokens or neural networks."
Shortly after the Fed's June 29 announcement, Frank Keating, president and CEO of the American Bankers Association, issued a statement, saying the Fed's steps were significant toward reducing harm to the financial system. "We commend the [Federal Reserve] Board for recognizing that there are a whole range of costs for which banks should receive reimbursement, including fraud losses, network fees, certain fixed costs and fraud prevention costs," Keating states.
Latest Tweets and Mentions