Mortgage Fraud: Worse Before Better
Expect New Schemes and More Regulatory Oversight in 2011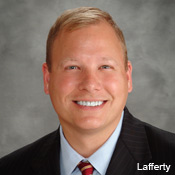 Home foreclosures were down for the second half of 2010, but mortgage fraud continued to grow. In fact, mortgage fraud attorney L.T. Lafferty says the second half of 2010 actually saw a 20 percent increase in reported incidents of mortgage fraud.

"Fraud is not going to stop, whether it's a boom industry or a bust industry," says Lafferty, who focuses on and leads the White Collar Crimes practice for Florida-based law firm Fowler White Boggs. "In the bust market right now, there are several factors that increase the opportunity for fraud."

Some of those factors include pressure on lenders and builders to maintain productivity and profits, as well as increased unemployment, mortgage-loan defaults and foreclosures.

During this interview, Lafferty discusses:
Mortgage fraud trends;
What regulatory agencies and law enforcement are doing to tackle mortgage fraud;
How institutions can fight mortgage fraud by improving identity theft prevention.
Latour "L.T." Lafferty leads the White Collar Crime, Government Investigations and Corporate Compliance and Ethics practice for Florida-based law firm Fowler White Boggs. Lafferty is a former federal prosecutor who spent most of his time prosecuting white collar criminals, including those charged with mortgage fraud. He also has served on the Florida Commission on Ethics.
TRACY KITTEN: L.T., when we last spoke in August, we talked about regulatory initiatives, such as responsibilities of the Federal Reserve in regulating consumer lending practices, and why the greatest challenge for banking institutions over the course of the last six months of 2010 into early 2011 was going to fall in the area of regulatory compliance. What updates can you provide us about the current regulatory environment and do you still think that we're going to face quite a bit of mortgage fraud going into 2011?
LT LAFFERTY: When we spoke in August, we were talking about the Safe Act and we were anticipating the implementation of the final rule on Oct.1, 2010. Now, of course, that final rule has gone into effect, and at that time lenders had to have in their policies and procedures regarding the licensure of loan originators within their employment. Now, we're still waiting for those employees to actually have to be registered on the national database, and we expect that to take place in 2011. But from a regulatory perspective, those policies and procedures had to be in place by Oct. 1; and then, from a fraud perspective, unfortunately, we anticipate an increase in fraud in 2011. There are recent reports that indicate that fraud continues to be a problem. It has actually escalated over the last 18 months. From 2009 to the first half of 2010, there has actually been a 20 percent increase in the fraud rate.
Defining Mortgage Fraud
KITTEN: This is a question that we probably don't ask often enough, and that is, how exactly do we define mortgage fraud? And has the more stringent regulatory environment helped the industry make headway toward its fight against mortgage fraud?

LAFFERTY: Well, that is the interesting thing, Tracy, about mortgage fraud; there is no mortgage fraud offense. Unlike securities fraud and healthcare fraud, the federal code does not specifically criminalize mortgage fraud. What you have, instead, is a group of different federal offenses that are used effectively by prosecutors to prosecute mortgage fraud. Those offenses are anything from conspiracy to bank fraud, mail fraud and wire fraud, as well as false loan applications. The increased regulatory environment has had some impact on the mortgage fraud rate. For example, in that same report we mentioned earlier, the report does indicate that there has been an 8 percent drop in mortgage fraud related to false income statements on loan applications. That is a result of the more stringent lending requirements that lenders are enforcing now.
Fraud in a Bust Market
KITTEN: We've talked about a few reports here and I'm going to mention a report that was issued in November about housing and financial data from Core Logic. According to Core Logic, mortgage fraud in the U.S. grew during the second quarter of 2010. Mortgage fraud reportedly increased more than 20 percent. According to an FBI report, between 2009 and 2008, mortgage fraud investigations increased 71 percent and fraudulent loans were worth $14 billion. Why does mortgage fraud continue to be a problem, from your perspective, L.T.? Why would this type of fraud continue after the bust of the real estate boom?

LAFFERTY: Well, that is because fraud, all fraud, is about hidden opportunities. Fraud isn't going to stop, whether it is the boom industry or the bust industry, and a lot of people often ask me whether or not we see more fraud now in an economic-depressed environment. The answer is "no." There is fraud all the time. It's just that fraud is going to be perpetrated differently when there are different opportunities; our task is to identify those hidden opportunities. For example, in the bust market right now, there are several factors that increase the potential or incidents or the opportunity, if you will, for fraud. During this time, there is great pressure on lenders, builders and borrowers to maintain economic productivity. So, there is this performance incentive or this pressure to make some numbers and to make some profit. At the same time, there is a great increase in the number of unemployed individuals, as well as the people that are living in homes that are in default or in foreclosure. So, there is this real estate; and, at the same time, with respect to mortgage lenders, there is a significant decrease in the number of loan originations, coupled with decreases in home values and home inventories. This creates a confluence of many factors that create additional opportunities for fraud. And what you are going to see is that the fraud in 2009 and going forward in 2010 and 2011 is going to be focused in these areas.

KITTEN: Now, when it comes to the prosecution of mortgage fraud, what challenges do mortgage lenders and financial institutions face?

LAFFERTY: Prosecutors have wide discretion to use a variety of different statutes to prosecute fraud, but as one federal prosecutor recently said to me is, "There is no common scheme." Mortgage fraud prosecutions are fact-intensive. So, in each case, you have to investigate the case and determine what is the offense in that case, and then try to identify a statute that is best suited for those facts.

For example, prior to 2009, you couldn't prosecute most mortgage fraud cases under the bank fraud statute, because the definition of a financial institution did not include most organizations that were making mortgage loans. That definition, of course, now has been expanded to include any company making a mortgage loan. That is an example of some problems that prosecutors have had, and then, of course, the fact-sensitive problems that they have; but they are actively pursuing these cases.

KITTEN: I'm going to go back to talking a little bit more about the bust market that we noted earlier. You've mentioned that mortgage fraud continues to escalate in Florida, where mortgage fraud complaints ranked No. 1 for the fourth consecutive year, according to Lexus Nexus. What steps are being taken to address fraud in that market, and what unique challenges do you see other markets facing?

LAFFERTY: Florida is in a unique position. During the boom times, they had one of the greatest real estate booms in Florida since the 1920s, and we know how that ended, with the Great Depression. What you had was a great influx of wealthy people moving to Florida, and there is a Forbes report that came out last year that indicated that the wealthy like Florida. They like the sunshine and they like the fact that there is less income and estate taxes in Florida. So, you have a large influx of people. As a matter of fact, 2007 was the first time since World War II that the number of people moving to Florida actually decreased. So, you had an incentive to build more homes, and as long as people were building homes and they were taking out mortgages, you had that real estate boom. Then, of course, when it went to the bust, like it did in the Great Depression after the 1920s, you had a large glut of homes on the market and it just created additional opportunities for fraud.

Now what you are seeing from a law-enforcement perspective is that they are still playing catch-up. They're trying to prosecute cases for fraud that occurred during the real estate boom -- the Ponzi-type schemes, the flipping cases -- and then they are going to be playing catch up to the fraud that is taking place today. So, there is this enhanced pressure on the lenders, from a compliance perspective, to try to be aware of these fraud schemes and cut down on them today.
More Fraud on the Way
KITTEN: Going back to the Core Logic report that we noted earlier, the industry is expected to see increased mortgage fraud risk, as mortgage fraud has steadily increased over the last 18 months. You note that sub-prime fraud is behind us, but fraud associated with refinancing and government-sponsored programs increased in 2010. What other emerging fraud schemes in residential and commercial lending should the industry be concerned about?

LAFFERTY: Well, that is a great question, Tracy. From the FBI's perspective, according to their 2009 report, which was issued in 2010, lenders need to continue to be aware of loan-origination cases. But instead of using the income statements that are false, because there is increased verification today, they need to be aware of false documents being used to create that income as well as false statements relating to liabilities and employment. The Core Logic report also verifies that, although income fraud has dropped by 80 percent, the Core Logic report indicates that undisclosed debt is up 9 percent, false employment statements are up 5 percent, and occupancy statements are up 3 percent. And so those are areas of fraud relating to loan originations. The FBI also indicates that there is an increase of fraud in short sales and foreclosure rescue schemes, both of which are trying to take advantage of the glut of homes on the market in foreclosure and the number of mortgages in default. The Core Logic report also identifies those two areas as great risk areas going forward.

Then you also have schemes that the FBI warns about related to builder buyouts, and this is where the builders who have a glut of vacant homes or condominiums on the market are offering incentives to people to purchase those homes. But these incentives aren't disclosed to the lenders, and then they fall flat on those promises after the loan is obtained. You also have simple problems regarding loan modification. You have a lot of people trying to refinance their homes, and they are making false statements on those refinance applications. So, these are all different schemes that you need to be aware of going forward.
Mortgage Fraud and Identity Theft
KITTEN: And identity theft, you've noted before, also plays a role here.

LAFFERTY: Absolutely. If you don't have the proper credit, income or employment to obtain a loan or to refinance your property, stealing an identity is one of the ways of obtaining that ability to refinance a property or obtain a loan on a new property. It's basically using false documents and false identities.

KITTEN: How is law enforcement actively investigating and prosecuting mortgage fraud?

LAFFERTY: Well, that is another great question Tracy. Because we're living in a new era of "white collar crime enforcement," and that is a quote from the assistant Attorney General in charge of the criminal division for the Department of Justice, new resources are being applied to law enforcement, including new investigators, new prosecutors, and the willingness to use unique law enforcement techniques, such as wire taps, that have traditionally been reserved for organized-crime-type cases. These law enforcement initiatives are being employed in the different white collar context, but a lot of it is being employed in the mortgage fraud context. For example, there is an inter-agency financial fraud task force focusing on financial fraud that was created in 2009; today there are 18 regional mortgage fraud task forces that are working with federal, state and local law enforcement to target individual mortgage fraud cases in each state. Here in Florida, that mortgage fraud task force has a hit list, if you will, of mortgage fraud cases that they want to investigate and prosecute.

KITTEN: And in closing, L.T., I would like to ask, what steps can financial institutions take to prevent mortgage fraud?

LAFFERTY: The lenders need to be aware of the regulatory requirements. The final rule went into place on Oct. 1, and they need to have policies and procedures in place and they need to make sure that their employees, going forward, are properly registered when they are required to be registered. But also from a vigilance standpoint, one of the best ways that you can cut down on fraud is by being aware of the different types of fraud schemes that are out there, many of schemes that we identified here today. We all know that prevention is the best cure. So instead of being a victim of fraud and seeking law enforcement help, it's better to be more vigilant on the front-end. That means being more accountable and responsible.