Faces of Fraud 2011: Beware Cross-Channel Threats
Survey Results Reveal Top Fraud Threats to Banking Institutions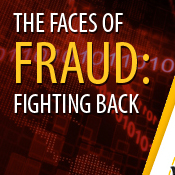 F
See Also: Actionable Threat Intelligence: From Theory to Practice
raud in all its forms will continue to strike banking institutions across all channels in 2011. And until banks and credit unions increase their investments in analytics and channel integration, they will continue to suffer losses.
That's the overall message from the Faces of Fraud: Fighting Back survey, whose results have just been released in an Executive Summary by Information Security Media Group. The results, which include responses from more than 230 financial leaders and security officers at financial organizations of all sizes, reveal keen insights into the fraud landscape.
Related Content
Among the survey's top findings:
Credit and debit card fraud ranks No. 1 among current forms of fraud, with 81 percent of respondents saying they have been impacted by payment card incidents this year. Check fraud comes in second, with 63 percent saying it remains a problem.
Phishing and vishing-related fraud comes in third, getting 48 percent of the respondents' votes. Interestingly, only 20 percent of respondents say they are prepared to fight and prevent phishing and vishing attacks.
Cross-channel fraud detection is not being widely implemented, with 55 percent saying they continue to rely on manual fraud detection techniques. Only 26 percent have a plan or team in place for cross-channel fraud detection; and 63 percent collectively say they either have no cross-channel plan or team, are working on a plan or team, or simply don't know.
And 76 percent of respondents first learn of fraud incidents only when their customers and members notify them.
To reduce vulnerability to fraud, 63 percent say they have improved customer and employee awareness through education, 40 percent say they have invested in new technology and 17 percent say they have increased their budgets and/or staff.
In 2011, 34 percent of respondents say they will increase budgetary investments and/or personnel to improve fraud prevention.
Reactions to the Results
"Many institutions only know about fraud when they get notified by the customer, and that is not indicative of an industry that is really trying to address the problem," says
George Tubin
, a senior research director for TowerGroup, focusing on delivery channels and financial security.
Tubin's perspective is not isolated. His is one of a handful of opinions solicited in response to the Faces of Fraud survey results.
Matthew Speare, senior vice president of information technology for Buffalo, N.Y.-based M & T Bank Corp., says fraud detection at banks and credit unions is still evolving.
"It's still an afterthought," Speare says during a panel discussion included in the Faces of Fraud Survey Results webinar. "No one seems to have been able to have made a lot of traction, and no one seems to be doing a lot to detect multichannel fraud."
But Speare is quick to point out factors that have contributed to banks' and credit unions' stagnation in multichannel detection. "What we see is that as organizations get larger, you get more and more siloed," he says. "It's an incredible challenge, especially if you scale over time, to get the full view of your customer and all of their transactions."
Fraud Awareness: 'It's Pretty Sad'
Others who reviewed the survey's results are less lenient, saying it's time for banking institutions to catch up.
Avivah Litan
, a distinguished analyst and vice president at Gartner, says banks and credit unions have for years continued to face the same fraud issues and rely on the same detection methods. "It seems fraud detection is really getting short-changed," she says. "It also says there is a lot of fraud they are never detecting."
With more than three-quarters of the survey's respondents saying they learn about fraud when customers notify them, Litan says, "I see that year after year, and it's pretty sad." It's clear cross-channel fraud is a problem, yet continues to fly under the radar. "There's not enough money being spent on cross-channel fraud detection, and that is disappointing to me," she says. "So much emphasis is being put on education for consumers and employees, but they aren't investing in technology."
Latest Tweets and Mentions